Somehow I just KNEW this was going to be amazing as soon as I laid eyes on the recipe. Quinoa, almonds, and apples tossed in a honey-curry-lemon dressing. I mean, what could be better? In fact, I'd deem this one of the best grain salads I've ever had in life! Everyone who knows me knows I don't like making the same thing twice, but this is definitely an exception.
You might think I'm exaggerating, but I'm really not. Think about it: crunchy almonds, nutty and chewy quinoa, crisp juicy apples, tart and tangy currants, fresh mint, and a dressing that's sweet, pungent, smoky, and tangy. And let's not forget the warm buttery olive oil, and the shallot that adds the perfect amount of bite. You've got all the flavors in this one salad! You don't even need to add salt, as the lemon juice gives your palate all the zip it needs.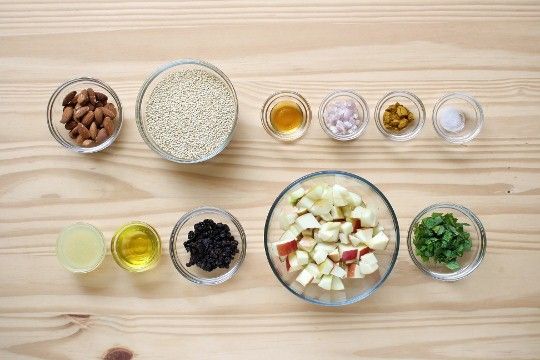 The curry dressing isn't overly sweet, but the apples and currants totally make up for that. This salad is a bit of an oxymoron: it's light and fresh, but also hearty and filling, if that makes sense.
The only change I made to the recipe (for sake of ease) was toasting my almonds stovetop (in a dry skillet) instead of in the oven. You have to watch them a little more carefully this way, but I think this method is a lot easier and faster. I used agave nectar in place of the honey for a vegan dish, but I really don't think there would be much of a flavor difference at all. Also, a nut oil such as walnut, almond, or hazelnut would probably be delicious in place of the olive oil...but either way is still guaranteed to be amazing!
Make again? This is a grain salad staple for me, so easy and with such simple ingredients. Leftovers fare well, and since it doesn't really require refrigeration, this would be a hit at summer picnics and potlucks!
♥♥♥♥♥
Vegan variation
: Substitute agave nectar for honey.
Quinoa-and-Apple Salad with Curry Dressing
Martha Stewart Living Cookbook Volume 2, The New Classics