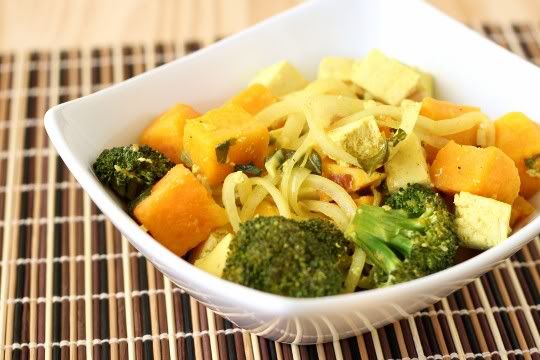 Butternut squash, tofu, and broccolini in a Thai-inspired curry-coconut sauce...sounds amazing, right? Unfortunately, this dish was a disappointment on many levels. Although I did adapt the recipe a tiny bit, I can assure you it's the recipe (and not me!) that has problems. If you're a big fan of this type of dish, make your own modifications, but read on to see where things went wrong.
Perhaps the biggest change I made to this recipe was baking it all in one dish, instead of going the foil-pack route. Seriously, I didn't want to waste all that foil, and one dish just seemed easier and more efficient. As far as the ingredients go, I used precut butternut squash cubes and broccoli instead of broccolini. So as you can see, no MAJOR differences.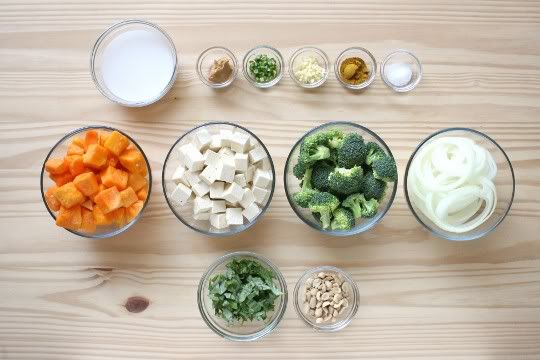 The curry sauce consists of coconut milk, peanut butter, jalapeno, garlic, and salt. And here's where the first problem lies: TOO MUCH SALT! One teaspoon is definitely overkill, so I'd suggest cutting it in half. Also, this sauce would taste a lot better if it had just a bit of sweetness, so I'd suggest adding some brown sugar or honey (or agave) to taste.
Once the sauce is done, simply toss the squash, tofu, broccoli, onion, basil, and peanuts in it. Put it in a dish (or whatever cooking vessel you wish to use) and bake. This could probably be made stovetop as well.
The end result was not great; I think you need to make definite flavor and ingredient modifications to the original recipe. It's way too salty, not sweet enough, and overall, slightly bland. Which is a shame because the main veggie ingredients should work wonders together. Imagine if the sauce was really an authentic Thai peanut sauce, it would be amazing! Other complaints include too-soft tofu (even though I used extra-firm) and too-hard squash (I baked it for like 45 minutes, sheesh!). If you're still interested after all this, I wish you luck!
Make again? No. The idea is totally there, but just wrong in too many ways. Give me a bottled peanut sauce and bag of stir-fry veggies any day.
♥♥♥♥♥
Curried Squash, Broccolini, and Tofu
Vegetarian Times
, May/June 2006