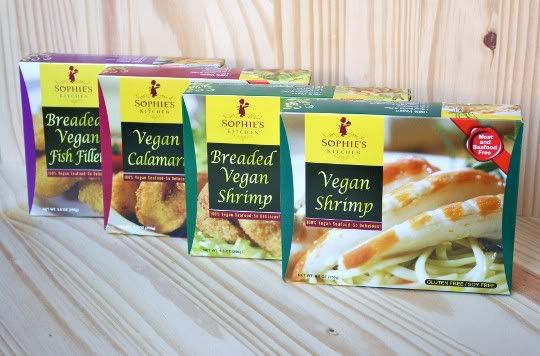 Seafood is probably one of the hardest vegan things to emulate AND make taste good. You can find a lot of faux fish products at your local Asian markets, but (speaking from experience) they're often unpalatable and always have a strange not-quite-right smell. Enter Sophie's Kitchen...
Available at most Whole Foods or natural grocery stores, Sophie's Kitchen offers almost every seafood substitute under the sun...er, sea. They're great for eating on their own (with your favorite dipping sauce), or for using to veganize recipes.
The main ingredient in most of the products is elephant yam root (aka konjac), which has a texture similar to gelatin or those oh-so-popular tofu shiritaki noodles. Other ingredients include potato starch, agave nectar, and seaweed. I know you're thinking horrible things at this point, but trust me...the stuff is GOOD.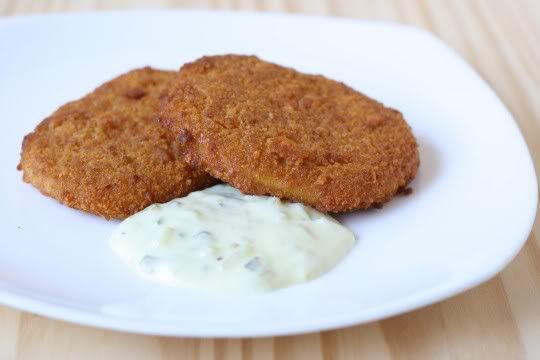 Vegan Breaded Fish Fillets, approx $4-5
♥♥♥♥♥
These cute little patties have a slightly sweet, fishy flavor, and there's plenty of well seasoned, crispy breading surrounding them. The texture isn't exactly fishy; it's more like faux chicken. A little stringy, dense, and mushy (they're made with TVP), not flaky and light like I'd expect. Still, they're delicious. I think they're best served in place of fish for a sandwich, and they're great with a little Vegenaise-based tartar sauce. In fact, the tartar sauce definitely ups the seafood flavor.
Vegan Calamari, approx $4-5
♥♥♥♥♥
So, I've never actually had real calamari, as the idea of eating something like that always grossed me out. But whatever these things are? Superb! The actual "calamari" is white, chewy, and a bit tough, but the REAL flavor is in the breading. Peppery, perfectly coated, and crispy, it's what makes this little guys so addictive. I'm not sure if it's the breading or the calamari, but something in this definitely has a seafoody taste. And they're so simple! Just lay them on a baking sheet and bake for about 20-30 minutes (or until your level of crispiness is achieved). Serve them up with your favorite seafood dipping sauce; cocktail sauce (pictured) is a favorite of mine.
Vegan Shrimp, approx $4-5
♥♥♥♥♥
You definitely won't be fooling anyone into thinking these are real shrimp, but with the right sauce or condiment, they work wonders. I consider these to be in the realm of tofu: pretty much flavorless, until they're coated or doused in a super flavorful sauce. But perhaps the strangest thing about these shrimp is the texture: rubbery, chewy, and jiggly (yes, they jiggle). It's a strange thing to get used to, but once you do, the sky for veganizing recipes is the limit.
Featured recipes:
Szechwan Shrimp
Indian Spiced Shrimp
Breaded Vegan Shrimp, approx $4-5
♥♥♥♥♥
Last but not least, my absolute favorite of the bunch. The strange jiggly shrimp texture is completely masked by the delicious, crispy, perfectly seasoned breading. These things are addictive, the perfect party finger food. They are simply divine dipped in cocktail sauce, but I bet a nice spicy citrus sauce would do equally well. If you're not careful, you can easily eat an entire box of these. These little babies have become a permanent part of my frozen foods rotation.
It's nice to know that great-tasting, healthy vegan seafood alternatives are widely available, and at decent prices too (compared to the real stuff!). Word on the street is Sophie's Kitchen is even coming out with crab cakes and breaded scallops! I can't wait to update this post with those treats!
Sophie's Kitchen
on
Facebook
on
Twitter
Available at Whole Foods and natural grocery stores