If you're looking for an absolutely delicious, summery, and cinch-to-make side dish that can pair well with just about anything, look no further. This simple but fully flavored quinoa dish is light, healthy, and strangely addictive.
Although this recipe is simple and doesn't require much work, it's best if eaten the day after it's made, which allows the flavors to really develop. In fact, I would easily say leftovers of this tasted even better as the days went by.
Simply cook toasted quinoa until fluffy and let cool. Next, add toasted chopped pistachios, salt, olive oil, lemon juice, and fresh parsley and mint. If you want, season to taste with a little black pepper, but that's really all you need. No additional salt or seasonings are necessary (so simple, right?!).
The finished product is amazing. The nutty quinoa becomes slightly creamy from the added olive oil, and the sweet pistachios add a nice crunchy texture. The nuttiness of the pistachios combined with the quinoa and olive oil also seems to create a tahini-like flavor which is rich and delicious. The parsley and mint aren't overwhelming, and the lemon juice gives the perfect amount of tanginess. If you want to add a little more sweetness and flavor variety, try adding some golden raisins or currants.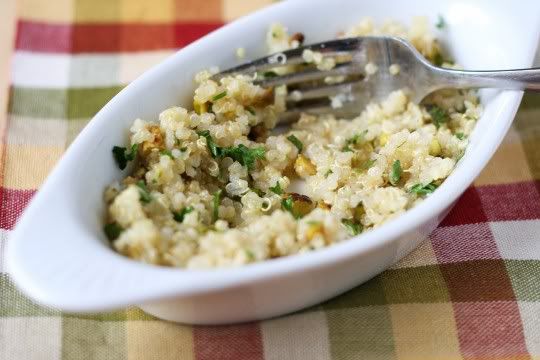 Make again? Definitely. Another gold star for quinoa!
♥♥♥♥♥
Quinoa with Pistachios, Parsley, and Mint
Vegetarian Times
, May/June 2006