Chowder isn't typically served in warmer seasons. It's thought of as a winter dish, served piping hot, rich, and thick to warm your body up on cold nights. This recipe, however, takes a different approach: it's light, dairy-free, and uses only the best summertime produce.
It's also ridiculously easy to make. There's no cooking involved, so it's ready to serve as fast as it takes you to dice an avocado and whirl everything in a blender. Simply puree almond milk, corn (fresh or frozen and thawed), avocado, and salt. To serve, garnish with a few corn kernels, a few avocado cubes, and freshly ground black pepper. It couldn't be easier!
If your almond milk has been refrigerated, this is pretty much all the chill factor you need. I used thawed frozen corn, so that added a bit more chill, but you wouldn't want to serve this any warmer or colder.
The texture is thick and rich, yet the flavors are light. The avocado makes this chowder creamy and velvety, and adds a delicious buttery flavor. Almond milk gives it just a hint of nuttiness, and the corn adds the perfect amount of sweetness (just enough to keep this a savory dish). To get this chowder REALLY smooth, use a super high-powered blender (like Vitamix). Otherwise, there may be bits of corn kernel "skin" throughout, but it just adds to the texture.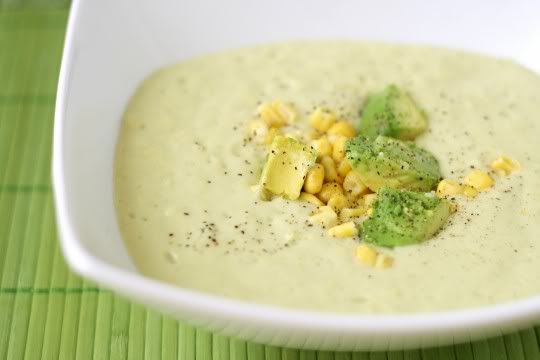 This surprisingly filling chowder would be great for brunch, or for lunch paired with a salad or sandwich. It's best served the same day, as chilled leftovers get a little...weird, in both flavor and smell. It's still edible, just not as good as when it's fresh.
Make again? Yes, although I'd halve the recipe to prevent having leftovers.
♥♥♥♥♥
Fresh Corn Chowder
Vegetarian Times
, May/June 2006