Give peas a chance! This stunning recipe not only showcases the flavor and beauty of the delicious legume, but also complements it with wonderfully paired ingredients. Tangy lemon, sweet dill, and crunchy almonds all come together to create this super flavorful salad.
Quick and simple to make, the recipe utilizes ingredients that epitomize the spring and summer seasons. Start by making the delicious dressing: stir together fresh lemon juice, mayo, white wine vinegar, shallots, lemon zest, and Dijon mustard; then whisk in oil until the mixture emulsifies (you can also do this in a food processor, just add the zest and shallots at the end). You should have a creamy, shimmering, pale yellow dressing.
Next, toast your almonds (you can do this in the oven, but I find stovetop to be easier and faster). Add these to thawed frozen peas (I ran mine under cold water to keep the temperature, but just enough to thaw) and chopped fresh dill. Pour the dressing ove the peas, and toss until thoroughly coated. So easy!
This is surprisingly a very sweet salad. The peas add a lot of natural sweetness, but the dressing itself is a little sweet too. However, that's nicely balanced out with the tangy lemon, light and nutty almonds, and a tiny bite from the pepper. The dill also adds sweetness, but it's such a light and refreshing herbal flavor.
Perhaps one of the best things about this salad is all the different textures. The peas give little juicy bursts of plant-y flavor, while the almonds add a great contrasting crunch. The dressing is smooth and creamy and tastes good when the salad is served either chilled or at room temperature.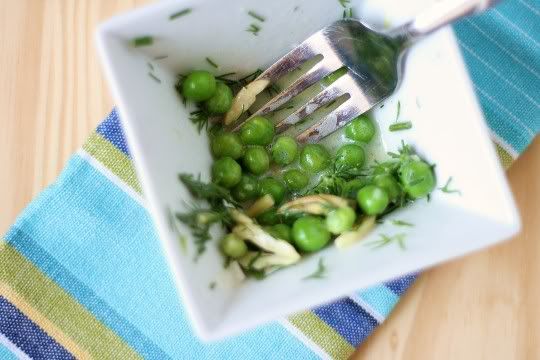 Make again? Yes, a great and unique side, perfect for potlucks, picnics, or brown-bagging it. And easily doubled (or tripled)!
♥♥♥♥♥
Herbed Pea Salad
(adapted from
Vegetarian Times
, May/June 2006)
2 tablespoons lemon juice
2 tablespoons soy mayonnaise (such as
Vegenaise
)
1 tablespoon white wine vinegar
1 1/2 teaspoons lemon zest
1 1/2 teaspoons minced shallots
1/2 teaspoon Dijon mustard
1/4 cup canola oil
White or black pepper, to taste
6 tablespoons slivered almonds
2 cups frozen peas, thawed
1/2 cup chopped fresh dill
To make dressing: Whisk together lemon juice, mayonnaise, vinegar, lemon zest, shallots, and mustard in medium bowl. Slowly whisk in oil. Season to taste with pepper.
To make salad: In a small skillet, dry-toast almonds over low heat. Stir occasionally until lightly browned. Remove from heat and set aside. Toss peas, dill, and toasted almonds with dresing in a large bowl. Serve at room temperature or chilled. Serves 4.