This might be a bit blasphemous to say, but I've never really liked carrot cake. I know, I know. I'm probably in the minority, but it's always just seemed like a hyped-up spice cake with cream cheese frosting. That is, until I came across this "ultimate" recipe from
Vegetarian Times
, the end-all, be-all of vegetarian/vegan print magazines. So does this cake really live up to its name?
I'll get to that later. First, let's start with the cake. Geez, that's a crapload of ingredients, right? Well yes, it is. But believe it or not, it's pretty simple to make. Aside from the ginger, carrot, and pineapple prep, this cake is ready for the oven in no time.
The ginger can take a while to grate, and you'll go through at least 2-3 inches of a piece just for one tablespoon.
The pineapple is a bit tricky (this was the first time I've ever worked with canned crushed pineapple). I liken the process to that of thawing and squeezing a pack of frozen spinach: keep as much of the pulp as possible, and get out as much of the juice as you can. Squeeze like there's no tomorrow, and reserve the juice another use (or drinking LOL). I did this by emptying the can into a colander over a bowl in the sink, then taking the "pulp" and squeezing it until the juice wasn't running over my fingers anymore. This could take a while (and get very sticky), so just a heads up.
For the carrots, I'd suggest using a food processor to shred them. This was my first time using my food processor attachment, and can I just say WOW?! It's so easy! About 4 large peeled carrots yielded a little over 3 cups, loosely packed.
The batter is a little soupy when completely mixed, and I found I needed about an additional 15 minutes of baking time (on top of the 50 minutes suggested). But you know what that means...
A SUPER moist cake!!!
While the cake is cooling, make the frosting. It's pretty easy, with most of the time spent whipping the cream into soft peaks. Wait, soft peaks...WTF? Let's just say, I would HIGHLY suggest whipping to stiff peaks. When the other ingredients are added (lowfat cream cheese, lemon juice, brown sugar, salt, and vanilla), the frosting already looks like it's a little too soft. And really, lowfat cream cheese? What's even the point? Try the full-fat version for better frosting texture and, well, because the cake is fatty enough as it is...might as well really make it ultimate, right?
I figured allowing it to fully chill in the fridge would set it, but a few hours later, it was still not quite the consistency of a successful frosting. In fact, I'd suggest chilling the cakes in the fridge for a while so everything is completely cold before assembly. My top cake layer started to slide off during frosting, and the frosting seemed like it almost started to melt as it spread (and yes, my cakes were completely cooled). It doesn't quite "stick" to the cake like a good frosting should either, thus making the layers slide around a bit during cutting. Again, I think this is one of those cakes that needs to set in the fridge before doing anything with it (if you can wait that long!).
But all the frosting issues aside, the final product is absolutely delicious (even to a carrot cake-phobe like me LOL). The cake is ridiculously moist, hearty, and rich. One serving is 1/16th slice, and that's really all you need. It's full of spice flavor, and the cool, almost minty sensations of the ginger and cardamom really come through. There's also a ton of walnut pieces in here, which you may want to omit or at least reduce if you're not a nuts-in-baked-goods fan.
Although the frosting doesn't quite act as a frosting should, the taste is out of this world. Yes, it melts and is a little too thin and airy, but it's also creamy, tangy, and salty. It's a perfect pairing to the rich, hearty cake because it isn't overly sweet
So is this the "ultimate" carrot cake? In a word, yes! Any recipe that can convert a previous hater is definitely a great one. While I'm not going to suddenly spend the rest of my days in search of carrot cake, this is definitely by far the best one I've ever tasted.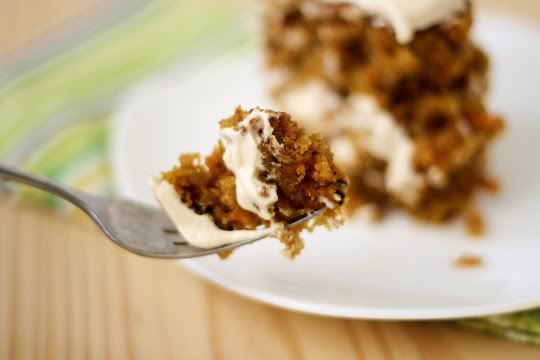 Make again? If someone were requesting carrot cake, it's definitely worth the effort.
♥♥♥♥♥
Vegan variation
: Use egg replacer for cake; use soy creamer and non-dairy cream cheese for frosting (although you may have to play around with the texture a bit).
The Ultimate VT Carrot Cake
Vegetarian Times
, May/June 2006