Bran muffins that contain no eggs, dairy, or loads of oil...how much healthier can you get? Well, try adding flaxseeds and whole-wheat flour, and only sweetening with molasses and maple syrup. If you like the hearty, earthy flavor of bran muffins, you'll definitely want to try these out.
Yes, these are vegan muffins, but you probably couldn't tell. It's also pretty impressive at how easy they are to make. They don't really require any strange or complicated ingredients, and they come together just as any other muffin recipe does.
Simply mix all the dry ingredients, then all the wet ingredients, and combine them together. Stir in the raisins (and nuts if you want, which are suggested in the original recipe), pour into muffin tins, and bake. That simple.
Making the flaxseed mixture for the egg susbstitute is probably the most fun. It's really amazing how it comes together: after just a few minutes in the blender, it's goopy, slippery, slimy, and thick. Just like real eggs, perfect for binding! It smells a bit plant-ish (which does carryover to the finished muffins), but just think of all those omega-3 fatty acids you're getting...without having to eat fish!
The muffins really do have a great texture, and you really can't tell from a texture standpoint that these are vegan. They're moist, dense, and chewy, and definitely best served still warm from the oven (don't overbake them!). Leftover muffins are a bit dry, but they do keep well frozen.
Surprisingly, there isn't a ton of your typical "bran" flavor, but I assume that's because oat bran is used instead of wheat bran. But combined with the whole wheat flour, there's a greaty nutty, earty, healthy taste. The muffins are mildly sweet, with a super rich molasses flavor, but most of the sweetness actually comes from the raisins...which is good because they are in high abundance. Although I did consciously omit the walnuts in the recipe, I plain ol' forgot to sprinkle the tops with sugar before baking. I'm sure this would have added some extra sweetness (especially with a nice crunchy, caramel-like turbinado), but it's up to your own individual tastes.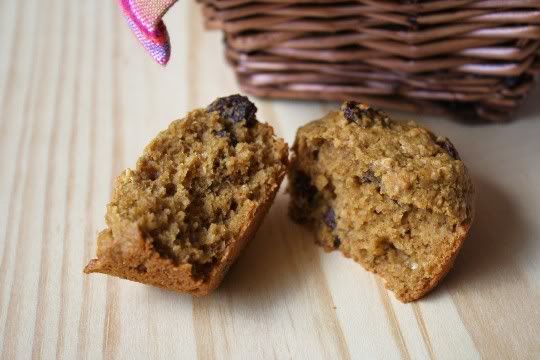 Make again? Probably not. This was a good muffin recipe, but I'm not big on the bran thing. But I was impressed with the vegan baking techniques!
♥♥♥♥♥
"Raisin Bran Muffins," adapted from
The Complete Idiot's Guide to Vegan Baking
by Donna Diegel (Alpha Books, 2011)

2 cups whole-wheat pastry flour
1 tablespoon cornstarch
1 1/4 tablespoon baking powder
1 teaspoon baking soda
1 teaspoon cinnamon
1/4 teaspoon salt
1 1/2 cups oat bran
1 cup soy milk
1/2 cup flaxseed egg substitute (blend 1/2 cup ground flaxseeds and 1 1/2 cups water on high speed in blender until thick and frothy, set for 1 hour in fridge, will make a little more than 1/2 cup)
1/2 cup canola oil
1/4 cup maple syrup
1/2 cup molasses
2 cups raisins
1/4 cup turbinado sugar (optional)

Preheat oven to 375. Grease (or line with paper liners) 16 to 20 muffin tins. In a large bowl, sift flour, cornstarch, baking powder, baking soda, cinnamon, and salt. Blend well. Add oat bran, and combine well. In a separate large bowl, beat soy milk, flaxseed mixture, oil, maple syrup, and molasses for 1-2 minutes. Add raisins and mix until combined. Fold dry ingredients into wet ingredients until moistened. Fill muffin cups 3/4 full. Sprinkle with turbinado sugar, if desired. Bake 22-25 mins or until golden brown. Cool 5 minutes on wire rack, then remove and cool completely.