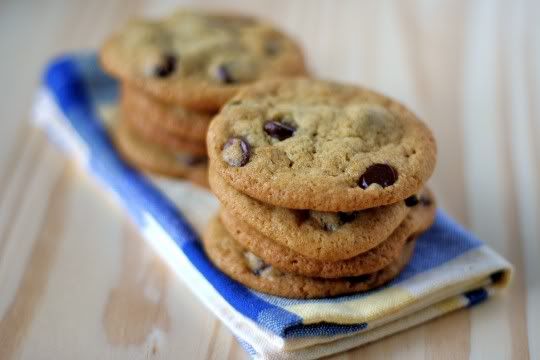 You won't believe how many people I fooled with this recipe! I mean, coming-back-for-seconds-and-thirds type fooling! Yes, these cookies are THAT GOOD. It's basically just a veganized recipe of your standard chocolate chip cookie, but when you can't stop at just one, you really won't care.
And they're so easy to make, just like any normal cookie recipe. The only visual difference I noticed was that the egg substitute seems to make the dough a lot lighter-colored than usual; texturally, the dough is light and very soft. After mixing, I refrigerated mine for about 30 minutes before baking. Roll walnut-sized balls of dough (this will leave your hands very greasy), and bake for about 10-12 minutes.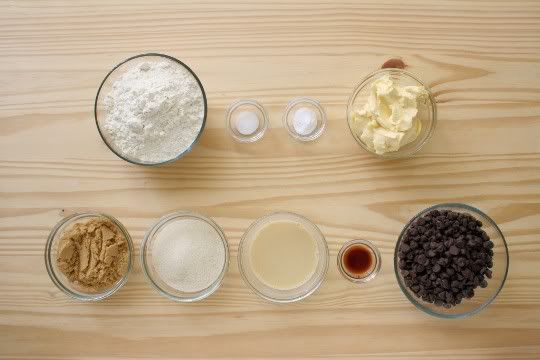 If you don't believe how amazing these cookies are, just wait 'til you eat them fresh from the oven. O. M. G. Seriously, you cannot tell the difference between this vegan version and any other kind. They're the perfect thickness, crispy on the edges, moist and chewy on the inside. They're the perfect amount of sweet, with the rich savoriness from the chocolate chips and a hint of saltiness. I probably could eat half a batch in one sitting, easy! I was able to get about three dozen cookies out of this recipe, and they kept surprisingly well in an airtight container. Of course, they didn't last that long anyway...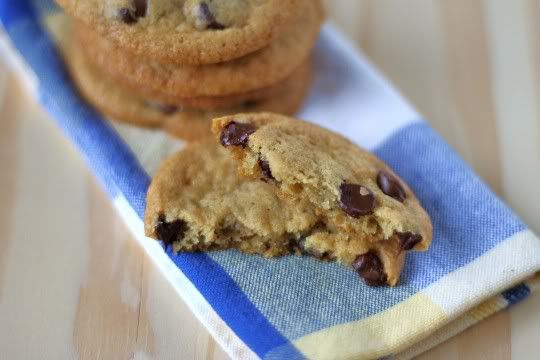 Make again? Helllls yeah, we've got a winner! This recipe really lives up to its "classic" name.
♥♥♥♥♥
"Classic Chocolate Chip Cookies," adapted from
The Complete Idiot's Guide to Vegan Baking
by Donna Diegel (Alpha Books, 2011)

2 1/2 cups all-purpose flour
1/2 teaspoon salt
1 teaspoon baking soda
1 cup vegan butter, such as Earth Balance Original
3/4 cup brown sugar, packed
3/4 cup cane sugar (or evaporated cane juice)
Egg substitute for 2 eggs (Bob's Red Mill is amazing; the book states that Ener-G can taste "chalky")
1 teaspoon vanilla
2 cups vegan semisweet chocolate chips, such as Ghirardelli

Preheat oven to 350. Lightly oil baking sheets or line with parchment paper. In a large bowl, combine flour, salt, and baking soda, and mix well. In a separate large bowl, beat butter and both sugars until creamy and whipped. Add egg substitute and vanilla, and beat again until light and fluffy. Add the dry ingredients in two additions, and mix well after each one. Add chocolate chips until just combined. Refrigerate dough for 30 minutes to one hour. Roll walnut-sized balls of dough and put on baking sheets about one inch apart (return any unused dough to the refrigerator). Bake 10-12 minutes or until dry and firm around edges. Transfer to wire racks. Remove after 5-10 minutes and cool completely before storing in an airtight container.