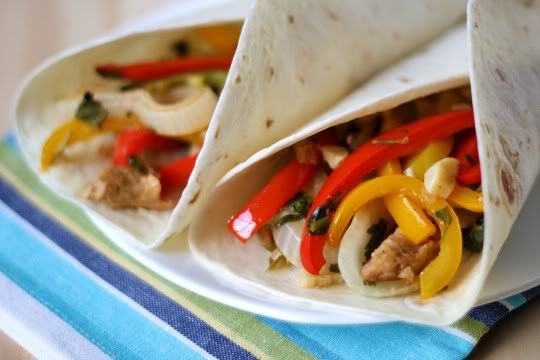 Foil-packet dinners aren't anything new. They're easy cooking, easy eating, and easy clean up. What more could you ask for? Now just imagine combining a bunch of fajita ingredients, baking them in the oven, and enjoying a yummy Mexican meal in only 30 minutes!
Okay so I'm lying a little. It's more like 30 minutes AFTER the veg prep. But once that's done, it's a breeze. Simply slice bell peppers, jalapenos, onions, garlic, and veggie burgers (the "meaty" kind, I used Boca Original Vegan patties, and make sure they're not fully thawed out or they'll be a mess to cut), and toss all of this in a large bowl with freshly chopped cilantro, olive oil, fajita spice mix (the kind from the packet), and fresh lime juice. Put this into your baking vessel of choice, bake for 30 minutes, and you're done.
A note about my recipe adaptation: the original calls for the fajitas to be baked in four foil packets (equaling about six feet! so wasteful!) on a baking sheet. But I knew a baking dish would be just as good. So, I used a 9x13-inch glass dish and covered it tightly with foil. Seriously, it's the same thing.
The fajita mixture is delicious, and you'd never know the traditional sauteeing method wasn't used. Or, maybe you would...the veggies are so light and healthy-tasting, perfectly cooked, and non-greasy. The peppers are juicy and super sweet, as the roasting really helps bring out their fruity elements. The burger slices absorb a lot of the other juices, making them sweet and spicy, yet still retaining their meaty grilled flavor. Everything is so well seasoned, add your favorite salsa or hot sauce to make these really kick. Serve in warmed tortillas, and you've got yourself an easy and delicious Mexican meal.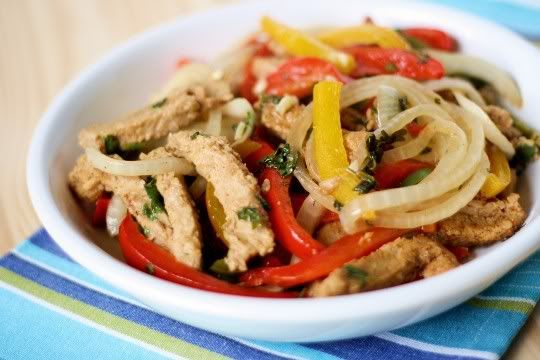 Make again? Yes, and I bet
Gardein chicken
would be an even better substitute for the burgers!
Three-Pepper "Burger" Fajitas
Vegetarian Times
, May/June 2006