This is easily one of the best brown-bagging items I've had in a long time, and it's definitely wallet-friendly. The versatile veggie wrap is easy to make and light, making this the perfect complement to soup in the winter or salad in the summer.
This was my first time using lavash, and I absolutely love it. If you can't find it (I got mine at my local Trader Joe's for only $1.99 a pack!), you can also sub a tortilla or other flatbread. The lavash is a bit fragile, so you'll have to be careful, especially when building the wrap.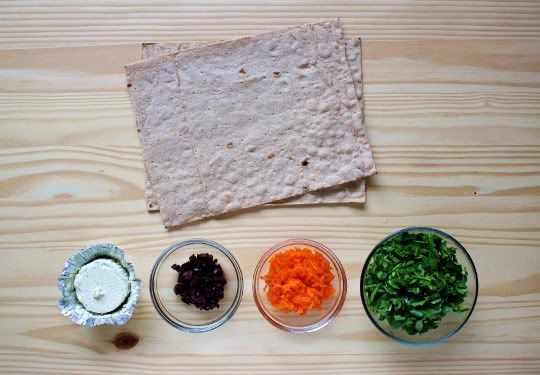 Lay your lavash on a flat surface, and spread with cream cheese (or Boursin, as suggested). This is the main time you'll have to be gentle (it's best to use a room temperature spread), as it can tear if you're spreading hand is a little heavy. Next, sprinkle with olives and evenly distribute grated carrots and chopped watercress (use GRATED carrots, not shredded...there's a big difference).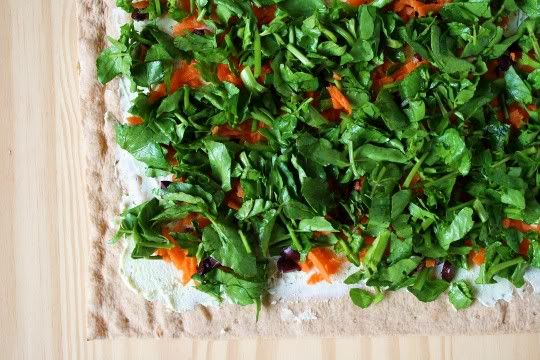 Carefully roll up the wrap starting with the short end; roll it tight, but not so tight that everything squeezes out or the lavash tears. Wrap the rolled wrap in wax paper, and either let sit at room temperature for a while or refrigerate so the flavors can meld and the wrap can "form."
The finished sandwich is light and tasty (and how cute is it?!), and just one half of it is surprisingly filling (see what I mean by easy on the wallet?). The watercress is crunchy and slightly bitter, and the carrots are juicy and sweet. The salty bits of olives aren't overwhelming, and in fact, much of the saltiness (and richness, whew) comes from the cheese.
What I like most about this wrap is how versatile it is. You can easily make this vegan by using hummus, non-dairy cream cheese seasoned accordingly, or--how good does this sound--a creamy cashew cheese. And think of all the other possible filling options: spinach, arugula, or kale; cucumbers, grilled zucchini or eggplant, or sun-dried tomatoes; or even add in some faux meat slices. Ooooh, I just thought of another one: avocado! Yum!!!
Make again? Definitely. Quick and cheap, great for brown bagging it, and easily customizable.
♥
♥
♥
♥
♥
Vegan variation
: Use non-dairy cream cheese, hummus, cashew cheese, or other spread.
Provencal Veggie Wrap
Vegetarian Times
, May/June 2006