Lola's, the supposed creator of the famed apple martini, is a West Hollywood restaurant/bar renowned for their extensive and quirky martini list. But this review isn't about the martinis; 'tis about the vegetarian dining options. In fact, I ordered a beer with my meal (and their beer selection is actually pretty good).
Earth tones, tiled floors, and dim lighting make up the ambiance at Lola's. There are two different bar areas: one at the entrance (which is more of a loungey area), and one toward the rear before you get to the actual tabled seating. A few interesting art pieces adorn the walls (not for the easily offended or bashful), and a variety of music streams through the air, which can surprisingly still be heard over the loud din of patrons. This is definitely a popular WeHo go-to spot for drinks, dining, lounging, or even shooting a game of pool.
The crowd is quite mixed, but very trendy and leaning a bit toward the "Hollywood" side. The bar areas are especially lively, complete with Sex and the City-esque girl groups, the pretentious men trying to get their attention, and various industry types. So yes, Lola's is a great place for people-watching/mockery on any night of the week (or for their new weekend brunch with bottomless mimosas!). And because this place seems to stay constantly busy, I'd strongly suggest a reservation just to be on the safe side. Otherwise, you'll be forced to eat at the bar with all of the drunkards (you've been warned).
As you can probably imagine, this is a pretty hot happy hour locale. Each day of the week usually has some sort of drink or food special, and they even offer happy hour on Sundays! Who else do you know that does that?! Unfortunately, there are a few items on the happy hour/bar-only menu that aren't on the regular one (which kinda sucks). They can still be ordered at the bar during regular hours, but then the prices are regular too (and they're not exactly cheap). So to get the best bang for your buck, it's probably best to go during happy hour, where everything on the bar menu is only $5.50 each (about half of the regular prices).
Spinach Artichoke Dip & Tortilla Chips, $9 ($5.50 happy hour)
♥♥♥♥♥
This isn't really your standard spinach artichoke dip. For one thing, there's probably the thickest, chewiest, stretchiest amount of melted cheese on top. It's best to eat this quickly, otherwise the cheese toughens and the thinnish tortilla chips are no match for dipping. But underneath all that cheese is a creamy, salty, hot, rich spinach-strewn delight. What I found most interesting flavor-wise is that this dip doesn't taste entirely like spinach; in fact, I'd say it has an emphasized cream of broccoli undertone. Otherwise, it's quite tasty, and the small amount is definitely enough for one person/serving due to its richness.
Hummus with Pita Points, $8 ($5.50 happy hour)
♥♥♥♥♥
While I do appreciate the presentation and the addition of other Mediterranean elements to this dish, it's basically your standard-tasting store-bought hummus and pita bread. I'm not saying that it is store-bought, but there's nothing overly exciting about it. It has a nice creamy texture, isn't overly salty, and is served cold (a little too cold, I think). It has a strong cumin flavor, which is probably included in the paprika dusting on top. The amount of pita served is just about right for the hummus. A couple of kalamata olives and cubes of fresh feta cheese round out the plate, which is a nice amount of food for the [happy hour] price. I will say that if you've never had fresh feta (the crumbled stuff in cartons doesn't count), then you'll probably enjoy this part of the plate the most. The extreme saltiness of it goes well with the mildly flavored hummus.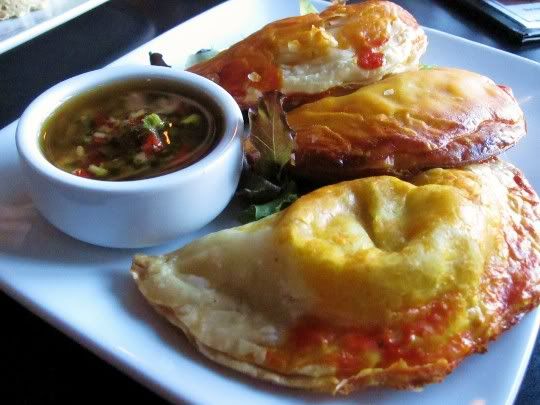 Vegetable Empanadas, $10 ($5.50 happy hour)
♥♥♥♥♥
One of the more hearty vegetarian happy hour items, these three surprisingly large empanadas are filled with a mix of veggies and served with a side of "spicy chimichurri sauce." The empanada dough is soft and chewy, but crispy on the edges with a shiny egg wash coating. The veggies inside are a little hard to make out, but there's definitely cabbage, carrots, zucchini, and bell peppers. Cooked until soft and mashed, the mix is surprisingly sweet, and I couldn't tell if that was from added sugar or just the sweetness of the veggies. Either way, it's a bit too sweet for what I was expecting...and I suppose that's where the chimichurri comes in to add some tanginess and spice. Which it did, but not quite enough. In fact, it seemed to have some sweetness in it as well, and tasted more like a spicy-sweet Italian dressing: peppers, parsely, oregano, basil, garlic, and a little lemon juice. I'd probably order this again; the flavors are good overall, and it's a nice amount of food.
Gourmet Grilled Cheese & Tomato Soup, $12 ($5.50 happy hour)
♥♥♥♥♥
Mmmmmm, there's nothing better than the delicious old school combination of a grilled cheese sandwich with tomato soup. Even better if the soup is thick enough to dip the sandwich in. And that's what this one is all about. The soup is thick, creamy, tangy, sweet, garlicky, super flavorful, and served piping hot. It's not overly rich, and the serving size is just right. The sandwich is on sourdough and contains sharp cheddar, havarti, and asiago cheeses, which proves to be an amazing combination. It's all in a thick, melted, ooey-gooey layer, and the bread is perfectly buttered and crisped. I'd definitely get this again, on multiple occasions.
Black Bean Cakes, $10 ($5.50 happy hour)
♥♥♥♥♥
Another tasty dish, these black bean patties are overwhelming with Southwestern flavor. You can taste beans, onions, and garlic, along with rice that's probably used for binding. What's even more interesting is that you can taste something like corn chips or tortillas, which is also either used in the binding or as the breading. The surprisingly hearty thick cakes are perfectly seasoned, lightly breaded, and crispy. The coleslaw served on the side is tangy and crunchy, but a bit too heavily coated in dressing. Still, good flavor pairings make for something I'd order again.
Lola's Mac & Cheese, $12 ($5.50 happy hour)
♥♥♥♥♥
For this to be Lola's "signature" dish, I have to say unfortunately that I wasn't impressed. I understand it's supposed to be cheese-loaded comfort food (which it definitely is), but I'm not a fan of
greasy
mac and cheese. For as much cheese layering was seemingly going on throughout the dish, there didn't seem to be a ton of cheesy flavor. In fact, I'd go so far as to say the mac and cheese is a bit dry. Dry, but still greasy, if that makes sense. There's a thick stretchy chewy baked cheese layer on top, but that's probably where most of it is. And to top it off, the noodles seemed a bit too al dente for my liking. I admit, leftovers actually seemed a bit better, but with all the other veg options, I probably wouldn't try this one again.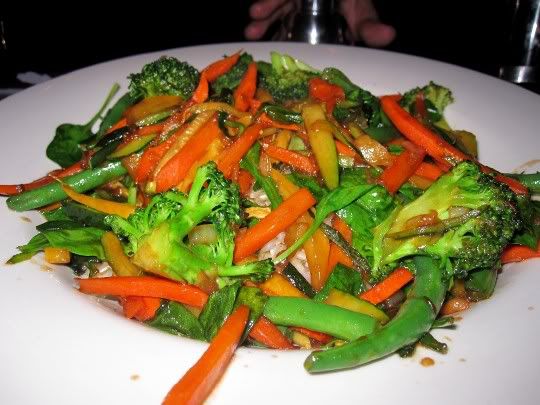 Asian Vegetable Stir-Fry, $11
♥♥♥♥♥
Hallelujah, why oh why can't this be on the happy hour menu??? This dish is absolutely delicious, easily one of the best veg options on the menu. Broccoli, carrots, squash, and green beans are tossed in a sweet and tangy teriyaki sauce, which is all served with your choice of white or brown rice. The veggies are perfectly cooked--not too soft, not too firm--and juicy, and the colors on the plate are just beautiful. The portion is actually pretty hearty, and believe it or not, I got about three meals out of it. If you're at Lola's for dinner, it is a must that you order this!
While I don't think I'd return to Lola's specifically for the food, I would make it a point to go for people-watching and various social outings while eating food (if that makes sense). Oh, and for the martinis. And of course, during happy hour.
Lola's
945 N Fairfax Ave
West Hollywood, CA 90046
(323) 654-5652
View Larger Map