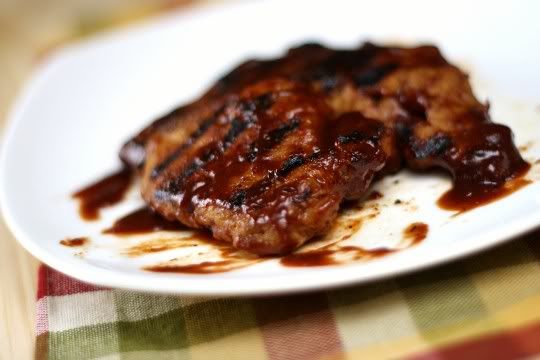 I've always wondered how difficult it is to make seitan from scratch. I've seen recipes for it, but always figured it would be easier to just go buy the premade stuff. But that's when the availability of it comes into question. My neighborhood store, for example, doesn't carry premade seitan; they do, interestingly enough, carry vital wheat gluten flour. Was a homemade seitan experiment on the horizon?
Yes! Weekend cooking experiment, woo hoo! And when I realized how easy and fun seitan is to make, I could barely contain my excitement. Imagine the possibilities!
The simple, standard-ingredient recipe is directly from the back of the
Bob's Red Mill Vital Wheat Gluten Flour
package. Simply mix together the flour and spices, then add water and stir. I was amazed at how quickly it "glutenized."
Next, knead the dough until it gets really tough and elastic. The recipe suggests one minute, but you need more like five. I've compared other seitan recipe techniques, and found some interesting differences. Some knead for up to 10-15 minutes, then let rest and knead again. Some knead "underwater" and continue this process with multiple water changes until the water runs clear. Some add the finished dough to cold broth and bring to a simmer, others add it to already simmering broth. So you may need to make whatever changes are suitable for you, but this recipe is a good overall starter.
The broth is a combination of water, molasses, and soy sauce. I probably would double the soy sauce amount, only because there's no salt included in the seitan. Or, try using a full-sodium variety instead of the low-sodium one I used. Or, you might want to try vegetable stock instead of water.
Cut the dough into pieces or slices, then add it to the broth. I think in the future, I'll experiment with cooking one whole piece (maybe in cheesecloth) which I think would make it easier to slice as desired in the end.
Here's the number one lesson I learned: use a BIG pot. The seitan will expand as it cooks, and I had more than a few boil-overs that required me to keep a close eye on the temperature with frequent stirrings. The recipe also doesn't mention if the pot should be covered or not; I covered mine, but because of the boil-overs, I alternated between covered and slightly covered.
After about an hour, remove the seitan to a colander. When it was cool enough to handle, I actually squeezed the pieces because they seemed very dense and heavy. This could be due to the excessive wetness of the original dough, but I wanted my pieces tough and meaty. Also, I think it's important to get as much of the broth out as possible, since this makes for better marinating.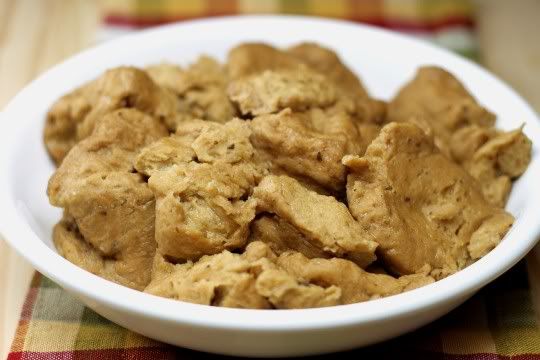 So after all was said and done (yes, it seems complicated, but it's really not), I actually liked this stuff. I really liked it. Aside from it being a little too juicy (which is why I think the squeezing step is important) and not quite salty enough (more soy sauce in the broth, or add salt to the mixture itself), this seitan soaks up the flavor of whatever you put on it...which is a great thing. That--combined with the chewy, elastic, mock-meat texture--makes this seitan just like the premade stuff you'd find in a store. Experiment with different spice combinations for both the mixture and the broth, and go crazy with marinades (for the main photos, I used a hickory marinade and a grill pan, followed by a slathering of BBQ sauce...yum!).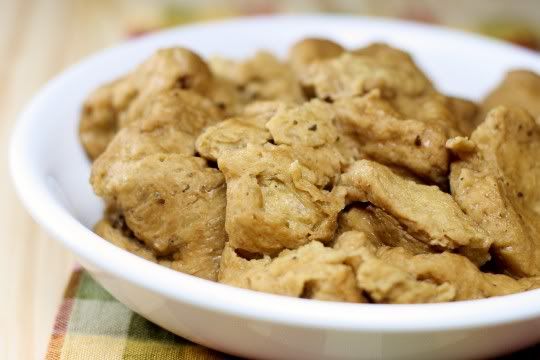 Even if you break down the cost for buying premade versus buying the flour and making it yourself, we're looking at dollars versus pennies. An 8-ounce package of seitan costs probably $4. A package of the flour costs maybe $7-8...but using half of that package to make a homemade batch yields probably three to four times what you'd get for the store kind! Yes, this one batch made quite a lot!
Make again? Definitely. If I were pressed for time, sure I'd pick up a store brand. But any other day, this is where it's at. I can't believe I made my own mock meat, woo hoo!
♥♥♥♥♥
Basic Seitan
Bob's Red Mill