Everything is better with grill marks! For this recipe, they make the marinated tofu seem that much tastier...not that the actual marinade isn't bursting with flavor on its own. It's so good, in fact, that you may find yourself using it for other foods since it's got all the flavors you'd want: tangy, sweet, spicy, savory, salty.
The key to this recipe is the tofu prep. Make sure it's pressed of water as much as possible. Or better yet, do the freeze/thaw/squeeze method: wrap the tofu block in plastic wrap, freeze overnight, thaw completely in a colander, then squeeze the water out. You'll be amazed at how much more water squeezes out than with the traditional pressing method...which is great, because that much more of the delicious marinade will get soaked up.
For the marinade, simply mix together lime juice, maple syrup, soy sauce, garlic chile paste, fresh garlic, and black pepper. Sounds tasty already, right? Pour in a dish, add the tofu slices (or cubes would be good), and marinate overnight. The next day, grill/broil/saute the tofu until it's nice and golden, and you're done! Put the grilled tofu back in the marinade, and use the remaining marinade as a sauce.
The tofu is sooooo delicious, and it's so flavorful! I used a grill pan to get achieve such perfect grill marks, but it really doesn't do the tofu justice. I would suggest actually trying to grill it over charcoal to get that wonderful smoky charred flavor. I did also try broiling the tofu, but it didn't quite compare to what a real grill could do.
Interestingly enough, the finished product isn't really spicy, so I'd suggest increasing the chile paste amount if you want some heat. The lime juice makes the tofu fruity and tangy, the soy sauce adds the perfect amount of saltiness and savoriness, and the maple syrup is a great sweet combination with the lime. Even the little browned pieces of garlic are a real treat.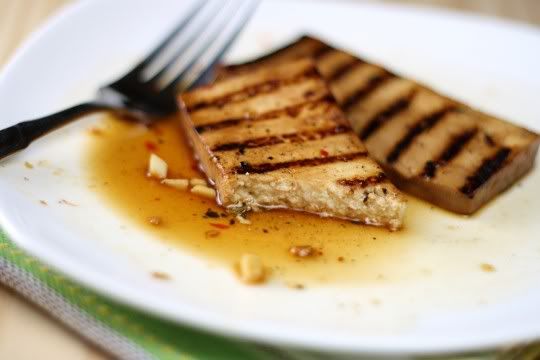 Make again? Definitely. That marinade is just too good!
♥♥♥♥♥
Spicy Grilled Tofu
Vegetarian Times
, May/June 2006