I had my first raw foods experience (ever in life) at a
Whole Foods dinner
, which just so happened to be catered by 118 Degrees' owner and chef Jenny Ross. I was so absolutely awed by the taste and creativity of the food, I knew I'd definitely have to make my way to the actual restaurant at some point. While I wasn't necessarily looking forward to the 50-mile one-way drive just for some food (and expensive food at that), I was more than happy that I'd come once I took my first bite.
118 Degrees is located in a very Orange County-ish shopping center, complete with a Bikram yoga studio, bicycle shop, and hipster "anti-mall." It's also right across from the ever-popular vegan eatery,
Native Foods
.
The restaurant is small, with concrete floors, earthy decor, and similarly toned wall art. About 12 or so dark wood tables and their accompanying high-backed orange microsuede chairs are placed relatively close to each other, so there isn't a ton of room to maneuver. There's also a "bar," which remained unoccupied for whatever reason. Soft, spa-like electronica plays at a nice level, and there's lots of nice natural lighting from the huge front windows (it gets a little darker toward the back of the restaurant). Since none of the food here is actually "cooked," there aren't too many aromas wafting around; instead, there's that "health food store" smell.
I'd HIGHLY recommend making a reservation for this place, as they were super busy at 2pm on a Saturday. I was surprised (and happy) to see the amount of kids dining here; but don't worry adults, they do serve beer and wine, and the servers are happy to make pairing recommendations.
Now before I get into the food reviews, I just want to say something about the service. It was SLOOOOOOOOOW. Yes, I came in without a reservation, but even after waiting for a few diners to leave, I watched as the now-unoccupied tables took FOREVER to be cleared and cleaned. Once I was actually seated, it took even longer just to get the standard glass of water (which seemed to be at room temperature and didn't even include ice) and eventually order (I observed this seemed to be the case for other diners as well). There was only one woman taking orders, while another worked behind the counter making juices and bringing out food. I think she was also responsible for bussing the tables, as I didn't see one actual busser the entire time I was there. Thankfully, the food arrived at my table after only about 15 minutes.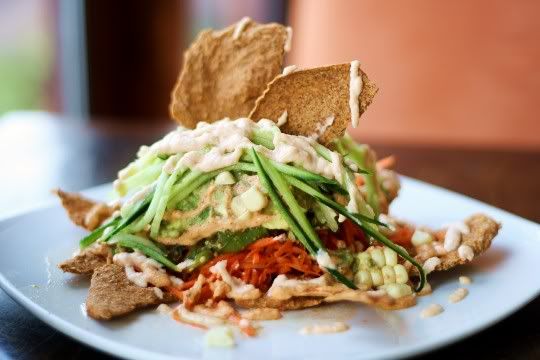 New Mexico Nachos, $10
♥♥♥♥♥
An absolutely AMAZING way to start off your raw meal. Flax corn "chips" are topped with chipotle "cheese," guacamole, and veggies. Yes, it sounds and looks more like some kind of salad, but if so, this is the most decadent, fresh, flavorful, hearty salad you'll ever eat. The chips are like thick, dry, crumbly crackers, but they make a great base for all of the toppings. The nut cheese is spicy, tangy, salty, and somewhat rich, but overall the BEST thing on the plate. The guacamole tastes so fresh, and the corn kernels are some of the juiciest and sweetest you'll ever eat. There's also shredded cucumber and carrots on top...which I didn't really understand for a nacho dish, but they're marinated and wonderful. All of the flavors go so well together, and I think you could easily get this as a main course.
118 Bristol Sliders, $12
♥♥♥♥♥
I'm not a HUGE fan of portobello mushrooms in this kind of culinary application, but I also can't resist anything named "slider." Interestingly enough, it's the mushroom that isn't the disappointing part. They're thinly sliced, well marinated and seasoned, and perfectly chewy and substantial. The tomato and spinach trimmings don't really add much, but the sauces really stand out. A garlicky, slightly sweet mayo-like spread coats one side of the "bun," while a thick, super flavorful basil sauce coats the other. In fact, I think it's the sauces that make this dish worthwhile. My main problem with these sliders, however, is the bun. Naturally, I'd think it's pretty hard to create anything bread-like in the raw world, so I'm not surprised that it failed here. The buckwheat bun is very strange: it's not horrible in taste, but the texture is doughy and almost pasty. Overall, I wouldn't order these again.
Surfer Sandwich, $13
♥♥♥♥♥
Funny how where the sliders above fail, this sandwich succeeds. The sprouted "house bread" is not really bread-like; its texture is kind of like eating a few tortillas stacked together, chewy, slightly tough, and a bit toothsome. However, its flavor is surprisingly good: nutty, tangy, salty, almost yeasty. The sandwich contents include shredded kale (which didn't taste properly "massaged") mixed with avocado, marinated zucchini and red bell peppers, and a delicious sweet nut cheese. I would have like a little more avocado, but something about all the flavor combinations in this sandwich made it strangely addictive. Tangy, nutty, salty, sweet, and a great chewy and wholesome texture. Very California, very worth it!
Dessert sampler, $15
♥♥♥♥♥
So this dish varies based on the desserts of the day, but all three samples I got were just heavenly.
The apple cobbler is so luscious and beautifully spiced and textured. It's not the most appealing thing to look at, but the flavors are wonderful. There are hints of saltiness in the nut-date crust that are just the right complement to the sweetness in the apples. That's topped with a nutty textured vanilla creme that's mild, creamy, and rich.
The chocolate truffles are sure to knock the socks off of any chocolate lover. Surprisingly, they're slightly savory and have a strong roasted flavor that reminds me of coffee. They aren't overly sweet, but the rich, fudgy, fruity chocolate sauce that tops them makes up for that.
The raspberry bar is served cold, which caught me off guard for some reason, and unfortunately had a bit of refrigerator taste. However, the texture of it is amazing. A sort of vanilla creme filling is reminiscent of a thin slice of ice cream, and that site upon a very nutty and coarse cinnamon-laced crust. This dessert is the most mildly flavored of the other two, and there isn't a lot of raspberry flavor. You mostly taste the vanilla creme and the nut crust...which is fine, but I think this could have been a lot more decadent and flavorful.
Overall, I think the dessert sampler is definitely worth splurging for...it's great to get nicely sized portions of more than just one of 118 Degrees' delicious raw desserts.
So while some may balk at the menu prices (including me), I think the portion sizes are actually pretty substantial and, contrary to what many may believe about raw foods, the food is surprisingly filling. I ended up leaving with quite the doggie bag, and the food was equally delicious the next day.
What's better, is I had that same "alive" feeling during my meal and afterwards. Yes, I was stuffed to the gills, but I still had so much electric energy pulsing through me. If you think I'm talking hogwash, have a meal here and see what I mean!
I'd definitely come back to 118 Degrees; for me, it's worth the occasional day trip. Not to mention, there's what looks to be a pretty kick-ass sausage (yes, veggie sausages) and salad
restaurant
with an AMAZING beer menu right next door!
118 Degrees
2981 Bristol, Suite B5
Costa Mesa, CA 92626
(714) 754-0718
View Larger Map