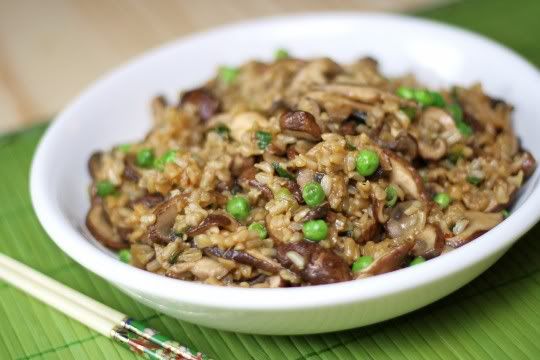 If you like mushrooms, ginger, or Chinese food (or any of the three), this dish is for you. It's a different take on the traditional fried rice, and a great way to use up any leftover rice sitting around in your fridge (white or brown would work, although the recipe calls for brown). Aside from all the veggie prep, it's a simple and healthy meal that makes either a hearty main course or a super flavorful side dish.
Once you get all 1 1/4 pounds of mushrooms sliced (the recipe suggests removing the gills from the shiitakes, but I didn't), the rest of the cooking is a breeze. Saute the mushrooms in two batches (or one, if you have a big enough pan), set the aside, then saute green onions, ginger, red pepper flakes, rice, soy sauce, and vegetable broth. Once that's heated through, add the mushrooms and frozen peas, and finally stir in a little sesame oil.
The finished fried rice is chockful of mushrooms, and is so ridiculously earthy and rich, you'll almost forget you're eating a Chinese dish. Seriously, it's VERY mushroom heavy. Fortunately, the spicy pungent ginger and sweet juicy bursts of peas break up some of the earthiness, and the flavors do seem to mellow a bit as leftovers. The ginger, however, seems to intensify! Another interesting thing about the dish is that the saltiness (which initially is the perfect amount) seems to also mellow out; I found myself wishing I could douse a little soy sauce over my reheated leftovers (oooh, and I bet some sriracha would do wonders!).
Overall, this was a very hearty, filling, and satisfying dish. Pair it with a sweet-and-sour glazed tofu, or some kind of sweet or tangy vegetable side for a Chinese-inspired meal.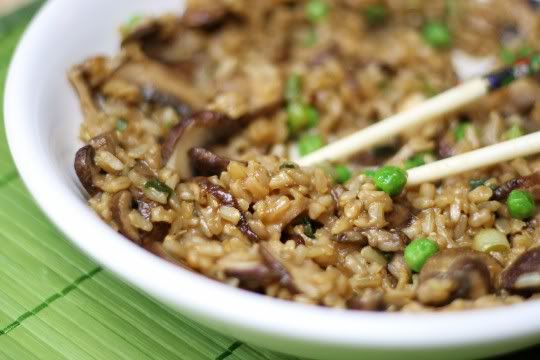 Make again? Maybe. Quick, easy, and relatively few (and inexpensive) ingredients...although I might cut back on the mushroom amount in the future.
♥♥♥♥♥
Mushroom Fried Rice
Vegetarian Times
, April 2006