Sometimes, rice just doesn't cut it. It can be boring, dull, and the same meal routine you've been going with for who knows how long. Enter quinoa, the wonder seed (yes, it's a seed). Although it looks like a grain and is cooked similar to rice, it's packed with all kinds of nutritional goodness--amino acids, protein, and fiber--and has a lighter texture and actual taste. This is why it's really such a key to this otherwise ultra simple recipe of black beans and veggies.
This ridiculously easy and quick meal has so much flavor, it's hard to believe there's so few ingredients included. Simply saute bell peppers (I used red) and red onion, then add canned beans, vegetable broth, and cooked quinoa until heated through. That's it, you're done! How GREAT is something like this for a busy weeknight or impromptu dinner?!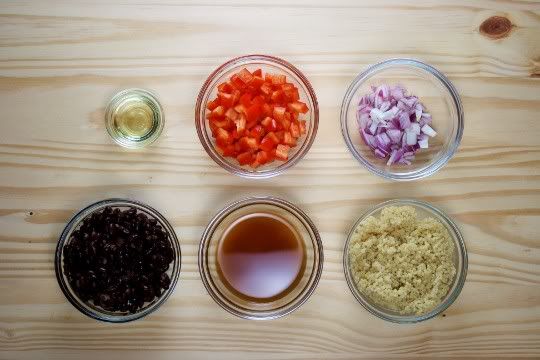 The dish is so simple, yet so filling and satisfying. Based on the ingredient list (no seasonings? hello?), I was a little worried that there would be no flavor, but I was wrong. Okay...well maybe the dish does need maybe a pinch of salt or some hot sauce, but so much flavor comes from the sweet bell pepper, pungent red onion, and slightly salty beans...not to mention that delicious nutty chewiness of the quinoa. Also, I wouldn't use a low-sodium broth here (or water as suggested in the recipe): use a full, rich broth or stock that will really help bring all the other flavors together.
A note about the serving size: it is TINY! I guess this is meant to be a side dish, as one half of the two-serving recipe is probably only about 1/2 cup. But you can easily double the recipe, and I'd say two serving sizes would work great as an entree. As a side, try pairing it with grilled tofu, a hearty salad, tortillas, or even soup.
This is a great base recipe, meaning you can add whatever you want to your palate's content. Add some salsa, your favorite hot sauce, diced avocado, diced tomatoes, sliced olives, lots of fresh cilantro, or even some crumbly cheese. The possibilities are endless...enjoy!
Make again? Definitely. A go-to meal when using up leftover quinoa (or hey, even rice!).
♥♥♥♥♥
Quinoa and Black Beans
Eating Well