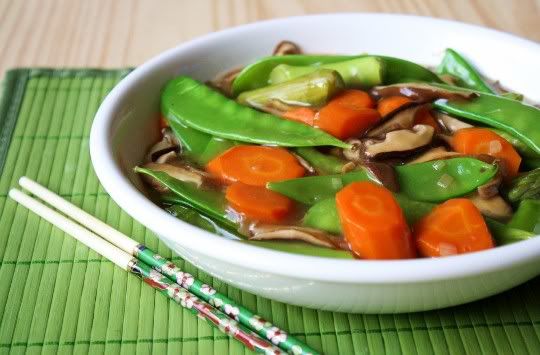 This is more than just stir-fried veggies: it's a flavorful, authentic, and surprisingly hearty Japanese dish that makes a wonderful side for sushi, rice, tofu, or any other Asian-inspired meal. Although there's a bit of work involved for all of the veggie prep, and the cooking steps seem slightly time consuming, the finished product is definitely worth it.
Simply saute shiitake mushrooms, carrots, and shallots in sesame oil, then add soy sauce and sake to deglaze the pan. Simmer until thickened, then add water. Simmer again, and you'll eventually add the remaining veggies, cooking after each addition. Toward the end, add in the kuzu dissolved in water (similar to what you'd do with cornstarch) and watch as the mixture suddenly thickens and glazes. Stir in a bit of umeboshi vinegar at the end, and you're done.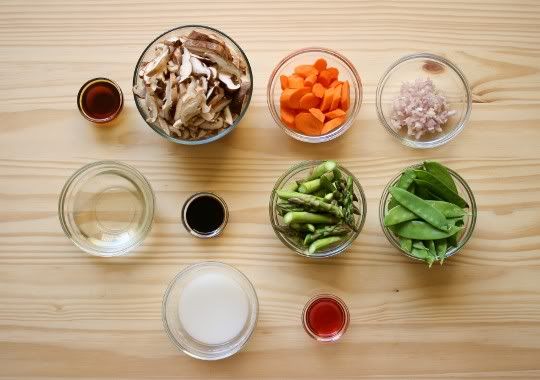 A note about kuzu (or kudzu, aka Japanese arrowroot): Okay, this stuff is like $8 a bag. You can use regular arrowroot as a substitute like I did, which is also kind of expensive, but I already had some on hand. Honestly, I think you probably could get away with simply using cornstarch, since the chemical end result looked to be about the same.
Aside from the carrots being slightly overcooked, all of the other veggies were perfectly textured. The flavors and consistency of the sauce reminded me of hot and sour soup: a little salty and tangy, and slightly thick and soupy. The combination of the sake and umeboshi are distinctively Japanese, and the natural sweetness of the veggies was a great complement.
This is best served immediately. Leftovers didn't prove to be so great, as the veggie seemed to wilt and lose their bright colors, and the once smooth sauce got a little goopy. This ragout is supposed to be served with these super salty
gingered adzuki beans and rice
, but there might be a bit too much salt if eating both of them together (in my opinion).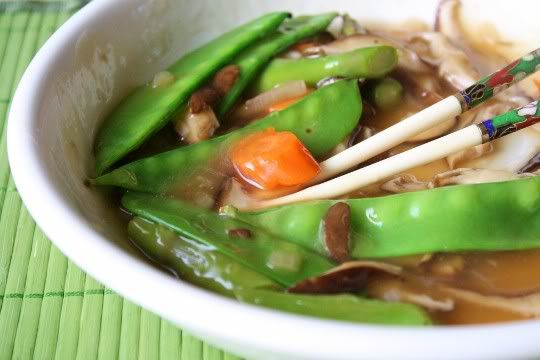 Make again? Maybe. I've never really experience Japanese vegetables like this (besides in sushi preparation), so it was definitely a unique first try.
♥♥♥♥♥
Japanese Spring Vegetable Ragout
Vegetarian Times
, April 2006