The German pancake (aka "Dutch baby") is a souffle-like delicacy, served piping hot and fresh from the oven. Watching it quickly deflate is only half the fun; of course, eating a slice accounts for the other half. This variation isn't the most delicious I've ever had, but the fragrant, sweet-tart apple topping is what really takes the cake in this recipe.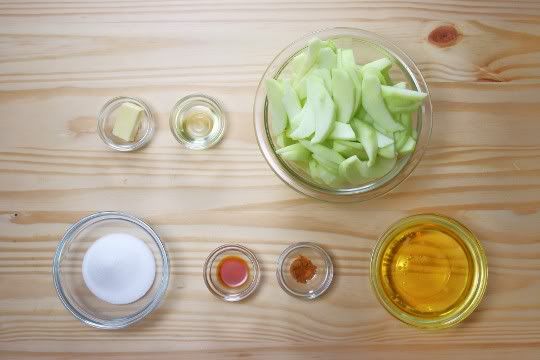 So let's start with that yummy topping. Peeled and sliced apples (the recipe calls for Granny Smiths, which yield a very tart end result...but I think you could use any apple variety) are sauteed in butter, oil, and sugar, until golden brown and tender. The apples will release a lot of liquid the first few minutes of cooking, but just make sure you keep stirring them to achieve a nicely textured consistency. Vanilla and cinnamon are added at the end of cooking, and a reduced syrup of apple cider is also added for complete apple flavoring.
After about 20 minutes, you get a wonderfully fragrant combination of what looks and tastes like applesauce and apple pie fililng. The apples are tart, but overall the mixture is perfectly sweetened. This topping can be made separately, and would be amazing by itself, or atop pancakes, waffles, French toast, oatmeal, and more.
Making the pancake itself is also quick and easy. It's a simple blend of eggs, flour, sugar, salt, and milk, which is poured into a
well-greased
cast iron skillet and baked for about 30 minutes. After the first heat lowering, I actually had to bake the pancake for an additional 10 minutes to get a somewhat browned topping and lose the center jiggle. When removed from the oven, it will be puffy...but it will quickly deflate into a lumpy-looking, uneven pancake.
Then again, it looks more like an omelet. Unfortunately, it tasted like one too. This pancake was WAY too eggy for my tastes; eating it alone reminded me of a mouthful of omelet or scrambled eggs. The measly two teaspoons of sugar in the batter really didn't come through at all, and the texture wasn't baked or fluffy: it was like overcooked eggs.
So it shouldn't come as a surprise that the amazing apple topping was this recipe's saving grace. Add a little powdered sugar, and it gets even better. The eggy flavor (for the most part) is masked by the apple's sweetness and tartness, and the pancake really just becomes a base for all that apple-y deliciousness. Interestingly enough, the leftovers actually seemed to get better: the eggy flavor mellowed, and the flavors in the apple mixture really deepened.
Make again? Topping yes, pancake no. In fact, I think
this recipe
is a lot better.
♥♥♥♥♥
Vegan variation
: For the topping, substitute vegan butter. For the pancake (this could prove to be a bit more difficult), experiment with pureed tofu in place of the eggs, and use a non-dairy milk.
German Apple Pancake
Eating Well