I recently stopped by Cafe Rivva to check out some of their new menu options, and my oh my, things have gotten so much more amazing since
my first visit
!
They've greatly expanded upon their standard menu of salads and smoothies to include (keep up now!) sandwiches, wraps, mini sandwich "toasties" (for the kids!), soups, fresh-squeezed juices and juice blends, wheatgrass shots, teas and coffees, soft-serve ice cream, milkshakes and fruit shakes, house-made sprouted almond milk, cookies and cakes (vegan brownies and cupcakes coming soon!)...all organic, all fresh daily (from the local farmer's market), and all with vegan options. All the new sandwiches can be made vegan with both vegan cheese and bread. There's even a gluten-free wrap available.
That's right, Cafe Rivva has become an official health powerhouse for all your dietary and healthy eating needs. The super-friendly chef and owner are ready and willing to break down any nutritional question or concern you may have and how it relates to your body, from digestion to skin troubles to yoga and muscle rebuilding.
Free Your Soul - Refresher
, kids $3.50, 12 oz $4.95, 16 oz $6.95
♥♥♥♥♥
This juice blend of apple, coconut water, strawberries, and fresh mint definitely lives up to its name. It's so refreshing and so light, with a perky, cooling sensation with every sip from the mint. I typically am not a fan of fresh mint in my food or beverages (well, mojitos are the exception), but this totally works, especially with the super thirst-quenching qualities of coconut water. The juice isn't overly sweet, as it's only sweetened with the natural sugars from the apple and strawberries, and there's a hint of richness from the coconut. Perfect for hot days, post-workouts, or whenever you want an herbal pick-me-up!
Vital Force - Energizer/Flu Fighter
, kids $3.50, 12 oz $4.95, 16 oz $6.95
♥♥♥♥♥
Ginger haters, beware...this is some potent stuff! Although optional, the fresh ginger really adds a spicy, sinus- and eye-opening experience to this drink specially made to ward off probably all ailments known to mankind (kidding). But seriously, the orange and carrot provide gazillions of vitamins C and A, along with lots of fiber from the apple. And that lingering bite from the ginger, whew! It's a great flavor combination with the orange, which I'd never think to put together, and the juice is tangy with the perfect amount of sweetness. And look at that rich, deep orange color, so beautiful! How could you not feel five times better after drinking this? Get some ASAP!
Natures Life Force - Detox/Cleanser
, kids $3.50, 12 oz $4.95, 16 oz $6.95
♥♥♥♥♥
Probably the "cleanest" thing I've ever tasted, this juice combination of apple, celery, kale, spinach, parsley, and mint is light and packed with flavors from the garden. And I mean that in a good way. You probably see the ingredients and think, "Kale, spinach, and celery? I'm supposed to drink this?" But it's actually good. I was a little hesitant to try it, but it's suprisingly sweet and refreshing. You don't really taste the kale or spinach, but the apple provides lots of sweetness...and so does the celery. I absolutely DETEST raw celery, specifically for it's weirdly sweet plant-like flavor...but it totally works here. Yes, there's still a celery flavor, but it's pretty much masked by the apple and herbs...and it gives a unique sweetness that only celery can provide. You can also definitely taste the parsley (which I'd never think to include in something I'd drink), but it adds a slight bitter tanginess to the background. The juice is a lovely emerald green, but drink it right away: when the ingredients begin to separate, things start looking a little strange (nothing a shake or stir doesn't help though!).
Rivva salad
, $8.95 (vegetarian)
♥♥♥♥♥
This is one of my favorite salad combinations: greens, fruit, nuts, and cheese. Top it all off with a delicious and complex dressing, and this salad is a sure winner. The portion size is pretty good for the price, and you will not want to stop eating it! Baby spinach, sliced strawberries, and spiced candied walnuts comprise most of the dish. What threw me for a loop was the cheese option: sort of a cross between feta and fresh mozzarella, this Mexican panela cheese is mild and tender with a fresh light and creamy taste. The dressing (consisting of "about 20 different herbs and spices") is absolutely divine, with spicy garlic and Parmesan flavors. It's tangy, salty, savory, and the perfect way to complement the other ingredients. This is the "house salad," and for very good reason. Simple, yet delicious.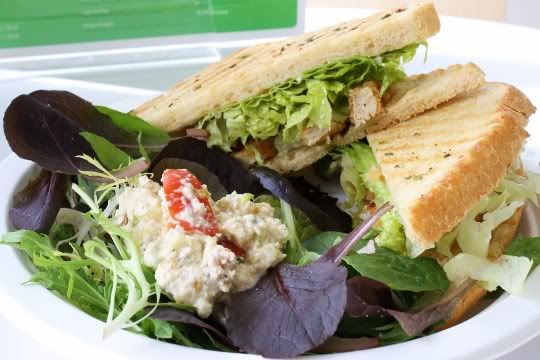 Veggie Chicken sandwich
, $9.95 with side of greens, $13.95 with soup or salad (vegan)
♥♥♥♥♥
Another simple yet surprisingly delicious and hearty sandwich. Sliced breaded faux chicken and shredded romaine lettuce sit between two slices of panini-pressed sourdough herb bread, which is lightly coated with Vegenaise. Yum! The bread is crispy and toasted, the chicken crunchy and perfectly textured, and the fresh lettuce crunch and salty mayo just make this a great sandwich. Served with a side of Cafe Rivva's AMAZING sweet-tangy eggless salad, this is definitely a meal worth revisiting.
Veggie burger sandwich
, $9.95 with side of greens, $13.95 with soup or salad (vegetarian or vegan)
♥♥♥♥♥
This isn't your typical veggie burger. It's hearty, moist, chewy, extra flavorful, and totally satisfying. You can tell this is one of those burgers that has a lot of stuff in it, of which I could pick out mushrooms, black beans, maybe a little chipotle, and maybe TVP for the chewy texture. It's a bit of sweet, a bit of savory, and has the perfect amount of seasoning and herbs. It's served on toasted honey-wheat bread (vegans, ask for a different kind) with a slice of cheese (dairy or non-dairy, or optional), red leaf lettuce, sliced red onion, and Vegenaise. The "special sauce" is thick, sweet, and tangy, sort of like a cross between ketchup, chili sauce, and barbecue sauce. It tastes absolutely divine with the burger, and makes this sandwich an overall winner. A side of Asian Seaweed Salad accompanied the burger, which was good and light with a toasted sesame flavor.
Chef's Special
(secret menu item!) (vegan)
♥♥♥♥♥
Not yet an official menu item, Cafe Rivva was nice enough to let me sample their "Chef's Special," a sandwich of tangy fried green tomato, spinach, and cucumber on toasted whole wheat bread. This is a very green sandwich, both in color and flavor. There's an interesting green hummus-like spread too. It has sort of an avocado-watercress flavor, which is slightly bitter but tangy and salty. But a fried green tomato on a sandwich? Who woulda thought? It's thick-cut, so it's hearty and juicy, and the tangy flavor really works well with the other ingredients.
And let's not forget about dessert...
Dairy-Free Oreo Shake
, 12 oz $5.95, 16 oz $7.95 (vegan)
♥♥♥♥♥
OMG, this is like chocolate cookie bliss. Thick, rich, and super chocolatey, this frosty blend of almond milk, banana, and vegan chocolate creme cookies is to die for. It's almost amazing to think something so decadent could come from the health-conscious Cafe Rivva, but hey, everyone deserves dessert right? And how can you resists anything with crumbled cookies on top? This shake is so decadent, you probably won't be able to get through most of it in one sitting. But that's fine...I stored half of mine in the fridge overnight and it was just as tasty the next day (for breakfast!). Just make sure you do a teeth check after drinking this...yes, it's THAT full of cookies!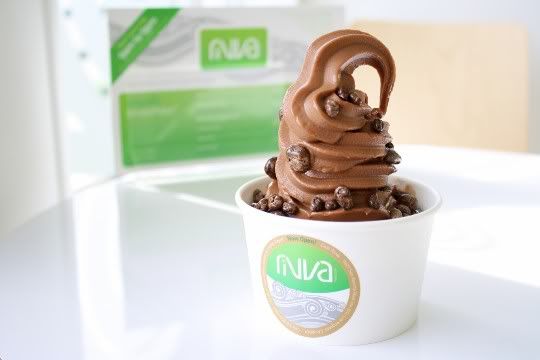 Vegan Choice Frozen Dessert, Chocolate
, kids $3.50, small $4.95, medium $5.95, large $7.95 (vegan)
♥♥♥♥♥
A vegan option of frozen yogurt/soft-serve is always available, and the chocolate one is absolutely amazing. It's creamy and light, with a smooth and sweet chocolate taste. You can pay up to $1 for any organic toppings (this one features cacao nibs), but there's options of granola, fruit, and even candies...all vegan.
Vanilla Wafer Ice Cream Shot
, $2.50 (vegetarian or vegan)
♥♥♥♥♥
For those wanting just a small treat, this one fits the bill. Frozen yogurt (of your choosing) is sandwiched between light, crispy, delicate vanilla wafers that aren't overly sweet; they simply provide a tasty and edible home for the yogurt. What I like most about this is the size: it's small but a great amount for the price, and it's just enough to get you through your sugar fix. And look how pretty it is!
So hurry on down to Cafe Rivva if you haven't checked this place out yet. They'll cure your appetite, knowledge, health, cravings, and whatever else healthy food can do!
Cafe Rivva
11677 San Vicente Blvd., Suite 300
Los Angeles, CA 90049
(310) 826-6866
MAP
on
Facebook
on
Twitter