Perfect for a fall or winter casserole-type craving, this hearty, absolutely delicious twist on lasagna is easy to make and surprisingly low in both fat and calories. Imagine the comforting texture of polenta, combined with salty and cheesy flavors, and of course, the robust and earthy mushrooms...it looks and smells so amazing, you'll have trouble waiting for it to set once it's out of the oven!
The most difficult and time-consuming part of this recipe is the mushroom prep. Depending on your cheapskate-ness (I'm the reigning queen), you can simply buy a pound of pre-sliced mushrooms (go for a mixed variety)...or you can buy the mushrooms whole (which is cheaper!) and clean and slice them yourself. I used a combo of crimini and shiitake for this dish, which worked well together. And yes, cleaning and slicing a pound of mushrooms (especially those tiny shiitakes!) takes a while.
Once that's out of the way, make the sauce. Simply saute onions, the mushrooms, and garlic, and then add milk, cornstarch, cream cheese, and wine. Once everything is tender, melted, and creamy, season it with salt, pepper, and nutmeg...the amounts suggested in the recipe are perfect. The sauce tastes SO amazing, you may want to double the amount to use over pasta in the future. I actually started eating the sauce when it was done once I got my first sample. Seriously, it's that good.
Next, you'll build the "lasagna," which really ends up being more of a polenta stack. The recipe suggests a 10x10 dish, but my 8x8 worked just fine. Simply layer the mushroom sauce, sliced polenta, and Parmesan a few times, and bake for about 45 minutes until it's all bubbly and a salty, earthy aroma fills your kitchen. The final step is a topping of more Parmesan, which is then broiled until lightly browned.
Your final dish is rich with flavor, salty, creamy, and earthy. The broiled Parmesan adds that delicious burnt, smoky cheese flavor that is just amazing in Italian pasta dishes. One "stack" (there are 9 in the pan) is great as a side, but two of them would definitely make a main course. And because this dish is so good, you'll want the main course portion.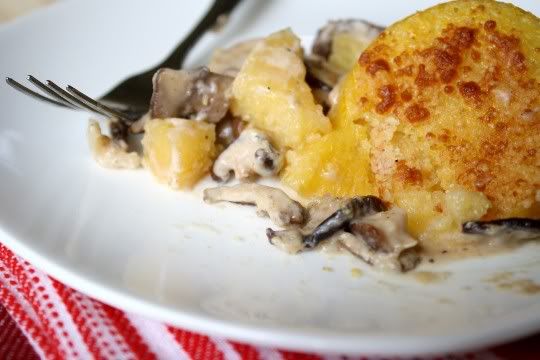 Make again? Definitely. I'd also try an adaptation of the recipe using regular lasagna noodles and a spinach filling...mmmmm.
♥♥♥♥♥
Vegan variation
: Use soy milk, vegan cream cheese, and a vegan Parmesan substitute.
Polenta Lasagna with Creamy Mushroom Sauce
Vegetarian Times
, April 2006