Well, I was certainly surprised to find these muffins weren't as good as they looked or I expected. They SHOULD be yummy pumpkin muffin bread, encasing a surprise center filling of cream cheese and apricot jam. Now I'll take some of the blame for why they weren't that great, but overall, I think this recipe is just a bit too hyped up.
For the most part, the muffins themselves are easy to make using a simple wet-to-dry method. But here's where I went wrong. Of the 2 cups of flour called for in the recipe, I ran out of the all-purpose kind (gasp!) so I had to substitute about 1/4 cup of whole wheat pastry flour. I do like whole wheat flour for its nutty, hearty, earthy flavor, and I assumed because it was "pastry" flour, the texture wouldn't change too much. And hell, it was ONLY 1/4 cup.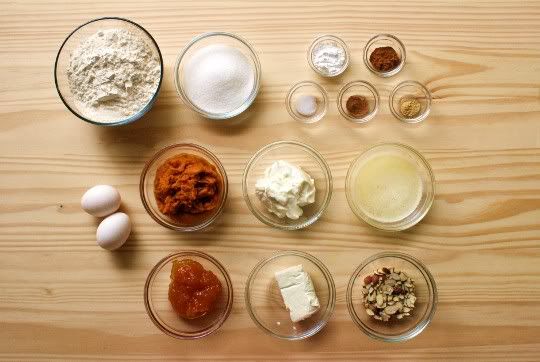 Alas, the muffins ended up with an extra hearty flavor (probably a little too hearty for the other ingredient combinations) and were surprisingly dense. They remained moist at least, thanks to the sour cream and butter in the batter, but leftovers ended up dry and hard (both stored in the fridge and at room temperature).
So now let's get to the surprise part. A cube of cream cheese is placed in the center of the batter before baking, along with about a teaspoon of apricot preserves. Cubing cream cheese and trying to get it in the batter proves to be a very sticky and messy process. What's even more unfortunate is that in the finished product, it doesn't really melt like I thought it would...it just sort of remains a lump of cream cheese in the middle, and the apricot preserves kind of spread out into the rest of the batter. Meh. I think the cream cheese would have been a lot better if it were sweetened first, possibly even mixed with the preserves.
Overall, these muffins aren't BAD. There isn't a ton of pumpkin flavor (maybe because the preserves are also added to the batter, giving it a slightly citrusy taste), but the crunchy sugar-almond topping is nice, and you can also taste lots of cinnamon throughout. That one "surprise" bite becomes extra decadent and creamy, and you are left wanting more of that part...not so much the rest of the muffin.
Make again? Probably not. I'd rather have a straight-up pumpkin muffin, spread with some cream cheese frosting instead.
♥♥♥♥♥
Vegan variation
: Use egg replacer and vegan substitutes for butter, sour cream, and cream cheese.
Pumpkin Surprise Muffins
Taste of Home
"Muffins and Quick Breads," 2008