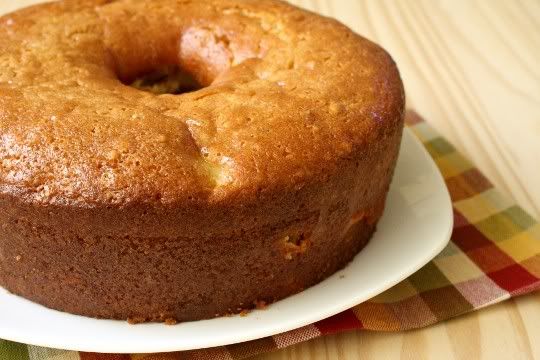 This isn't your typical fruit-and-nut cake; it's chockful of juicy pears, unique spices, and just a few toasted walnuts, and is literally covered in a sweet, aromatic, citrusy sticky glaze. In other words, it's the perfect super moist and super sweet fall dessert. You won't be able to wait to have your first slice fresh from the oven, but exercise patience! That glaze is part of what makes the cake so wonderful.
It's pretty easy to make...just your standard cake recipe, although there are some interesting batter ingredients. Aniseed (or anise seed) gives the cake an interesting herbal, licorice-like element (licorice haters, don't be afraid...it's not strong). If you don't have or can't find aniseed, you probably can very well substitute fennel seed. They are different, but they taste and smell (and look!) almost identical. Fresh orange juice and orange zest are also included, yet the citrus flavor is very, very light, with most of it actually coming from the glaze. The cinnamon, on the other hand, is definitely pronounced, and is a surprisingly nice combination with the pears.
And speaking of the pears, I think it's best to use just slightly underripened ones. Mine were VERY ripe, and they seemed to get creamy and almost puddling-like after baking. They also sank to the bottom, which may have been a result of a high water and sugar content. I used D'Anjou, but you probably could use any similar variety.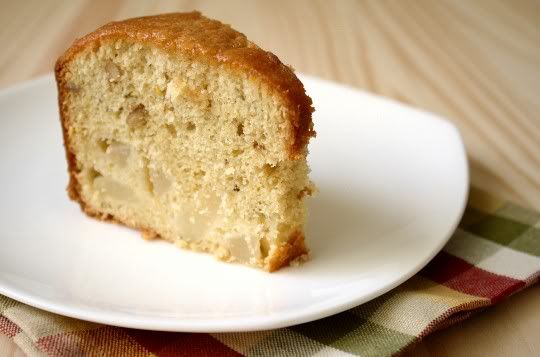 The other thing I like about this cake is the "under"-abundance of nuts. I'm not a huge fan of including nuts in my baked goods, but this was the perfect amount. Not too many, and just enough to not feel like I'm chewing nuts in every bite. And don't skip the toasting step, they really give a nice roasted, almost savory element that contrasts the juicy sweetness of the pears.
The syrup is a simple combination of heated honey and orange juice, which you should brush on while still warm. This really gives the finished product a nice sweet, finger-lickin' stickiness. The amount of syrup may seem like a lot, but just keep brushing it on until you've used it all. You may want to do this is layers; when dried, it becomes almost candied.
Make again? No. It is a GOOD cake, but a bit underwhelming for my tastes.
♥♥♥♥♥
Vegan variation
: Use egg replacer, as well as a different liquid sweetener for the honey (if desired).
Pear-Walnut Cake with Honey-Orange Syrup
Cooking Light
, December 2006