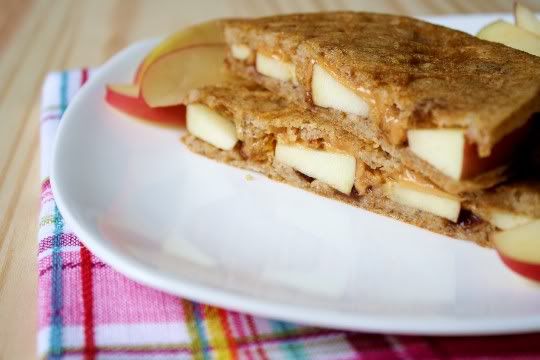 A sinful, decadent version of a classic PB&J, this quick and easy recipe is great for kids or adults, breakfast or dinner, or hell, even dessert. Yes, it's that tasty. I find it so cute that an entire brown-bag lunch of yore is combined in one sandwich: the peanut butter and jelly, the apple, and the raisins.
Mix peanut butter with honey and golden raisins (or I suppose you could use the regular kind, or any other dried fruit), and spread this on one half of a frozen waffle. Top with apple slices (hmmm, banana would probably be delicious here too). Spread the other waffle half with strawberry jam. Combine the two halves into a sandwich. Now, you probably could eat the sandwich like this...but to turn it into a "panini," there's one more step.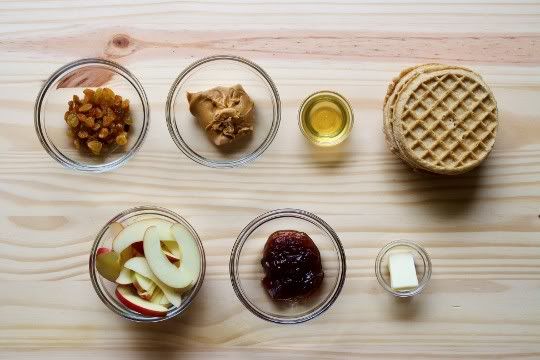 The recipe instructs you to spread the waffle outsides with butter before pressing, but do this at your own discretion. In fact, the butter makes the waffle slightly greasy, soft, and limp after pressing, and adds an unnecessary richness to an already super-sweet food. Maybe I just didn't press it long enough for it to really crisp up and brown (I used my George Foreman grill), but I didn't want it to burn or for the peanut butter to start melting all over the place. So, I'd suggest maybe just a quick spritz of the grill with cooking spray...leave out the butter.
Aside from that tidbit, the sandwich was DECADENT. This is like a gourmet PB&J, if there can be such a thing. The honey mixed with the peanut butter makes it extra creamy, smooth, and sweet, and the sweet bursts of the golden raisins are definitely something new. The strawberry jam adds more sweetness, but retains that classic flavor combination. The apples (it's best to use a tart variety to offset the sweetness...I wouldn't go with Fuji as the recipe suggests) give a juicy crunch to the chewy sandwich, and break up some of the sweetness.
What I do find interesting is that this is supposed to be a recipe geared towards kids. Seriously, this sandwich is SWEET. It was almost too sweet for me, so I can only imagine how it could have kids bouncing off the walls. Sure, it's "natural" sugar (if you use NSA peanut butter and jam), but honey AND jam? It's a bit much if you're trying to lower or watch your sugar intake. To modify this a bit, I'd suggest omitting the honey, using tart apples, and all-fruit jam. That might make things a little better.
Make again? Definitely. I'll never look at PB&J's the same! Try some different fruit subs (bananas, dried cherries, etc.) for fun and creativity!
♥♥♥♥♥
Vegan variation
: Omit honey, or substitute another liquid sweetener. Make sure frozen waffles are vegan.
Peanut Butter Panini with Apples and Raisins
Vegetarian Times
, April 2006