The overwhelming, explosive flavors packed into this quick and easy dish make it hard to believe everything is prepared in a microwave. That's right, you can have a tasty, spicy, Indian-inspired dish in mere minutes...one that's protein- and fiber-packed and full of healthy veggies.
A note about what's probably the most important ingredient in this recipe, the curry paste: don't make the mistake I did and use the Thai kind! Look for the Indian variety, simply marked "curry paste" (instead of the "color" variations used in Thai cuisine). It should be a very dark reddish brown with a gritty texture; when you open it, you'll more than likely need to stir it up to incorporate the oil at the top and the paste at the bottom of the jar.
I assumed all curry pastes were created equal; the red Thai version I used wasn't bad, but the results were definitely not the same as those that the Indian version yielded. While the Thai paste has many more notes of lemongrass and coriander, the Indian version is smoky, roasted, and more pungent, with richer flavor.
Aside from all that, the wraps are delicious, hearty, and make a great finger food. All of the ingredients work well together: soy crumbles, fresh spinach, shredded carrots, canned chickpeas, and diced tomatoes are microwaved together, then tossed in the curry paste. The filling is spicy, salty, and very pungent, with true exotic flair. But be careful while eating: it's very saucy, and that curry paste will definitely STAIN. In fact, be careful when opening the jar of it, as any splatters will be sure to leave bright yellow marks on everything from clothes, counters, and fingers.
Another thing I like about this recipe is that the filling is great on its own. So let's say you don't want to do the whole wrap thing, you can easily use this in a lavash or pita for a sandwich, or even serve it over some nice basmati rice with a side of naan.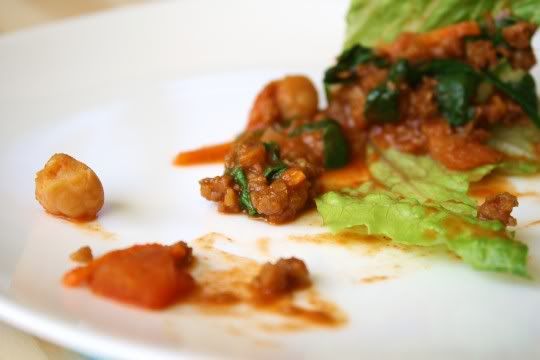 Make again? Possibly. Quick, easy, and requiring few ingredients, especially since I now have a jar full of the correct curry paste.
♥♥♥♥♥
Curry and Chickpea Lettuce Wraps
Vegetarian Times
, April 2006