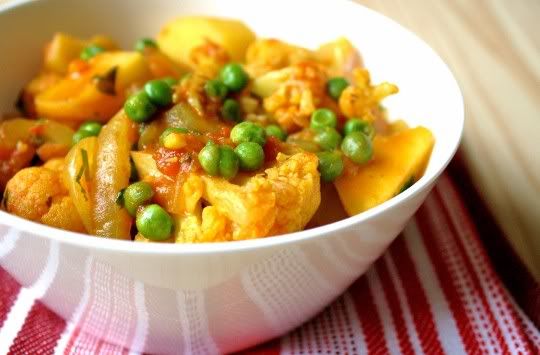 Aside from the veggie chopping and prep, this recipe is a very easy, one-pot, under-30-minute meal that could easily pass for a dish at any authentic Indian restaurant. In fact, it sort of tastes like a lighter, healthier version of a standard vegetable curry, which is usually fattened up with coconut milk and ghee. What's even better is that the flavors of this dish develop overnight, so leftovers are great and turn sort of stew-like.
Simply saute sliced onion and fresh ginger, then add curry and fresh garlic until the aromas become intoxicating. Next, you'll add chopped potatoes and cauliflower, followed by canned crushed tomatoes, fresh cilantro, and water. Once you get to this point, simply cover and simmer for about 15 minutes (or longer if so desired). Right before serving, you'll add frozen peas and more cilantro, and then you're done. Easy Indian, what could be better!
A few notes about the recipe: it definitely needs salt and pepper (to taste). The curry makes it flavorful enough, but it just needs that extra oomph to really bring out the flavors of the vegetables. Secondly, I think a thicker, slightly richer tomato-curry sauce would have been nice and even more authentic, so I'd suggest replacing the 1/2 cup of water in the recipe with light coconut milk.
Although the cooking time of 15 minutes may seem short, it's actually pretty spot on (well, that is if you don't want your veggies turning to mush). The cauliflower breaks down, but still remains juicy and tender. The potatoes (I admit) could have been slightly more tender, but I'd suggest just chopping them into a slightly smaller dice: instead of 1 1/2-inch pieces, try 1-inch, and make sure they are uniform in size. The onions are cooked perfectly, soft but tender, with just a hint of crunch.
The tomato-curry sauce is sweet, spicy, and tangy (as I mentioned above, try substituting the water with coconut milk to get an even thicker and richer sauce). In fact, I think the sauce was probably one of my favorite things about this dish, with the tomato/onion/pea mixture coming in at a close second. They all work together so deliciously; unfortunately, I did find the potato to be a bit flavorless, not soaking up as much of the sauce as I'd hoped (this did improve with leftovers). The ginger and garlic are definitely some strong background elements, yet I didn't really taste the cilantro. If you're a fan of the herb, try sprinkling some extra on top for serving.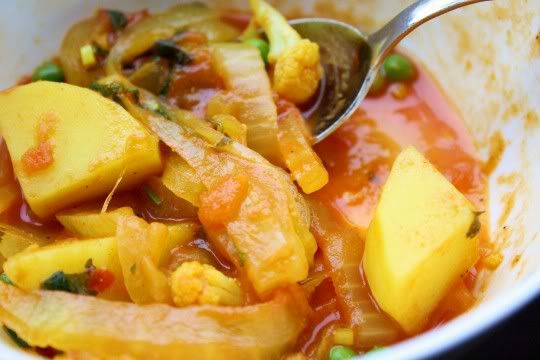 Make again? Yes. Quick, easy, low ingredient cost. Just make sure you serve this with some naan to sop up all the delicious sauce!
♥♥♥♥♥
Cauliflower and Potato Curry
Vegetarian Times
, April 2006