Occupying the third-floor corner of a bustling Brentwood plaza sits Cafe Rivva, a brand spankin' new addition to Los Angeles' vegetarian and vegan restaurant scene. The organic cafe not only offers a multitude of cold "salads" (and I'm talking a far cry from just the lettuce variety), but also out-of-this-world smoothies and frozen yogurt (yes, even a vegan kind!).
Smoothies come in a 12-ounce size for $5.95, or a 16-ounce size for $7.95. The price may seem a bit steep, but consider this: you're paying for all organic NSA ingredients, not the usual calorie-ridden fruit "juices" and concentrate nonsense from some of those
other
smoothie places. You can also purchase $2 smoothie add-ins, stuff that you probably won't find anywhere else: maca, chlorophyll, whey OR plant-based protein powder, coconut oil, and more. The counter is set up so you can watch as each ingredient (clearly labeled and neatly organized) is added to your smoothie and eventually concocted.
The salads are seasonal, since the majority of the cafe's ingredients come from local farmer's markets, but there are some year-round staple menu items. Servings are sold in "portions": one for $4.95, two for $8.95, and three for $12.95. It's a bit pricey, yes, but the portions are a good size and will leave you full and healthily sated.
Chintamani, the super nice head chef and lifelong vegetarian, explained to me that everything is 100% vegetarian with no gelatin or animal rennet used, and the vegan options (there are a lot) are clearly labeled. She's extremely knowledgeable and ready and willing to run down the list of ingredients of any dish, and you'll really dig her lovely Australian accent as she does so. Ladies, you'll also really dig the two young, friendly, tall, strapping blue-eyed gentlemen who also work there, but I digress...
| | |
| --- | --- |
| | |
The white and bright green color scheme, along with the light wood and white melamine decor, makes the place bright, fun, airy, and almost spa-like. I don't know about you, but green just screams "health!" to me, and that's the vibe you'll get as soon as you walk in. The white tile and wooden flooring were spotless, as were the glass walls which allow you to gaze at the outdoor rattan seating area while dining (so zen!). I noticed a lot of yogaphiles coming in (pretty much nonstop) for smoothies...I'm not sure if there's a studio nearby, but if so, Cafe Rivva should rightfully so be THE go-to post-workout spot.
Raw Cacao Smoothie
(vegan)
♥♥♥♥♥
Doesn't this just sound so exotic and tasty? Well, it is! Soooo chocolately but not overly sweet, the smoothie is light, refreshing, and pretty addictive. The texture wasn't QUITE that of a smoothie; it was more like thick chocolate milk, but it was oh so good. The raw cacao, complete with a topping of cocoa nibs, tastes almost mocha-like; this smoothie is sure to give any iced coffee a run for its money. Vanilla almond milk and banana could definitely be tasted, as well as a hint of fruity coconut oil.
Kale Sesame Salad
(vegan)
♥♥♥♥♥
Raw kale automatically seems like one of the healthiest food that you could eat, so of course it's offered here in a delicious, Asian-inspired salad. The leaves aren't too tough or chewy (which can happen when eating it raw), so I'm guessing they're properly "massaged" as they should be for any raw preparation. Sesame oil gives the salad a strong roasted flavor, and there's a surprising bit of heat from added cayenne. There's a bit of tanginess (possibly from rice vinegar), and lots of fresh crunch from red onions and celery.
BBQ Cabbage Slaw
(vegan)
♥♥♥♥♥
There isn't any barbecue sauce in this slaw (which is what I always expect whenever I see "BBQ"), but boy oh boy would this be amazing served aside some barbecued tofu, seitan, or other meat substitute. Then again, there is a delicious savoriness already present, thanks to minced
faux chicken
. The mildly flavored slaw is sweet and salty, and the mandarin orange segments add a refreshing summery juiciness that you simply can't get enough of. Definitely one of my surprising favorites.
Sun-Dried Tomato Spaghetti
(vegetarian)
♥♥♥♥♥
The texture of this is similar to eating cold, leftover spaghetti, but the flavors in this dish are absolutely wonderful and will satisfy each one of your taste buds. Every flavor is here: tangy artichoke hearts, salty bits of good-quality feta cheese, savory
apple-smoked veggie sausage
, and sweet-tangy tomato sauce. Spinach and oregano add some herbal notes, but overall, this is a rich, creamy, and addictive dish. I think this would do well heated up too.
Tofu Eggless Salad
(vegan)
♥♥♥♥♥
Wow, you'll never go back to eating real egg salad after this again! This creamy yet light and refreshing salad is sooooo good. It's sweet and tangy, with celery and green onions for pungent crunch. Something I'd never think to add to egg salad are halved yellow and red grape tomatoes, but they totally work here by adding some tanginess to offset the sweetness. The only small downside to this was the texture: I thought it was a bit watery, and not quite chunky enough to resemble egg salad. Sure, I know it's not SUPPOSED to be egg salad, but a chunkier texture would be nice, say, in a sandwich. As is, I think it's more like a dip or spread...but I still proceeded to eat every bit of it!
Mac and Cheese
(vegan)
♥♥♥♥♥
Similar to a cold macaroni salad (but closer to an actual mac and cheese), this dish was by far one of my favorites. There are bits of celery in it, but besides that, it's mac and cheese all the way. It's so rich and creamy, and
Daiya
gives it that great savory salty cheesiness. I was given the option of adding TVP "bacon" bits sprinkled on top, so I figured hey why not. Interestingly enough, this really worked, adding a nice meaty smoky flavor. I can only imagine how this would taste heated as well...hello delicious leftovers!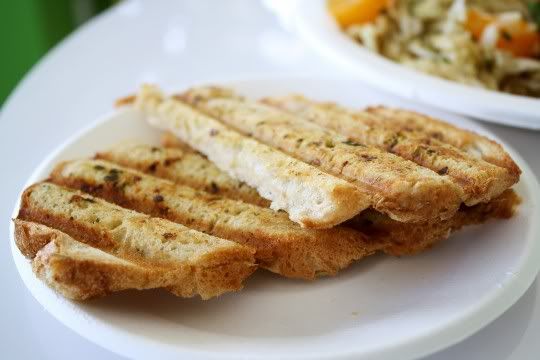 Gourmet Rosemary & Olive Oil Grilled Bread, $1.00
(lunch only)
♥♥♥♥♥
The one thing that's "cooked" and served warm here is the bread, and what a great piece of bread it is. Panini-pressed and drizzled with olive oil, it's the perfect carb complement to many of the salads served. Lightly salted, full of rosemary and herb flavor, and wonderful for scooping up the last bits of whatever you've got on your plate.
So come one, come all to Cafe Rivva: yogis, non-yogis, health nuts, vegetarians, vegans, even omnis will be pleasantly satisfied here. If you're looking for real, fresh, organic, locally produced, and more important, TASTY, fare, rush over at once! Oh, and they even have free wi-fi...score!
Cafe Rivva
11677 San Vicente Blvd., Suite 300
Los Angeles, CA 90049
(310) 826-6866
MAP
on
Facebook
on
Twitter