Non-dairy ice cream that tastes good...yes, it exists! But this isn't your typical soy/tofu frozen dessert: Turtle Mountain's So Delicious line uses coconut milk to provide that ultra rich, thick, creamy, and fatty texture akin to "regular" ice creams. You'd never even know the difference! If you're not a fan of coconut, you may not want to try this, as that unmistakable flavor definitely comes through...but it's so light, so refreshing, and so flavorful that you may want to reconsider.
--------------------------------------------------------------------------
Green Tea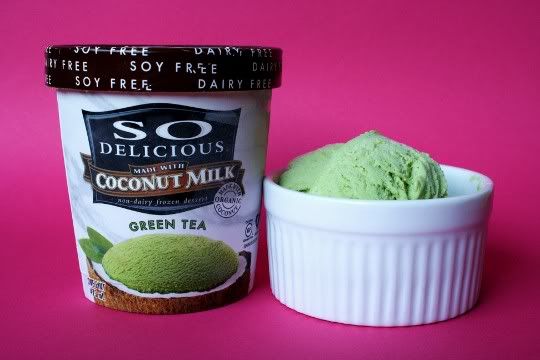 I absolutely LOVE anything green tea flavored, and I expected to be hit with a matcha flavor blast. Alas, the green tea flavor is a bit hard to make out, as it seems dominated by the coconut milk. Now don't get me wrong, it is GOOD. After a few bites, your taste buds will get used to the coconut milk flavor, and finally the mildly bitter green tea will come through. The ice cream isn't overly sweet (like most green tea desserts), but it's super refreshing and would make a great after-dinner treat.
Approx. $4-6 per pint
♥♥♥♥♥
Buy again? Maybe
Cookies and Cream
Okay, so this isn't your typical cookies n' cream. The first thing you'll taste isn't vanilla, but coconut milk. The cookies don't have that overly chocolate Oreo flavor, and they aren't that sweet (at least there are a lot of them...big, full, chewy chunks). The actual ice cream itself is sweeter, an almost fruity sweetness that most definitely comes from agave syrup. So combine all those flavors--coconut, fruit, and chocolate--and can you guess what you have? That's right...Almond Joy ice cream! That's really the best way to sum up these flavors. So as long as you dive into the container expecting that (and not usual cookies n' cream), you'll be satisfied. And when was the last time you had cookies n' cream that was actually light and refreshing?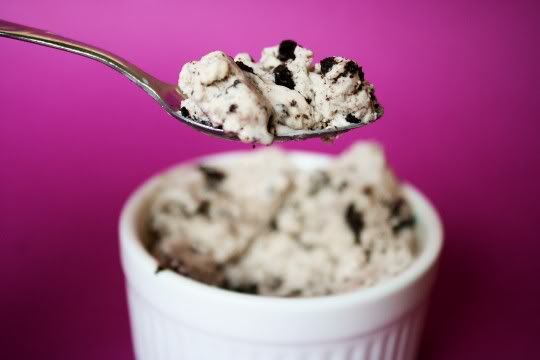 Approx. $4-6 per pint
♥♥♥♥♥
Buy again? Maybe
Purely Decadent made with Coconut Milk
(for some reason, my containers were labeled "So Delicious" instead of "Purely Decadent")
Available in most supermarkets, Whole Foods, and natural/health food stores