I decided to make this recipe for a couple reasons: 1) I had a box of cake flour I was trying to use up, and 2) the ingredient list was pretty small. Oh and, of course, it sounded good. Imagine my surprise to find out that this recipe with "orange" in its title barely had any orange flavor at all.
It's pretty easy to make, with probably the most difficulty involving beating egg whites. Dry ingredients are combined with wet ingredients of basically just oil and orange juice (I did NOT use fresh squeezed, hmmm...). Next, the stiff-peak-beaten egg whites are folded in; suddenly, this seems similar to an angel food cake. Sure enough, the batter was light, airy, and surprisingly thin.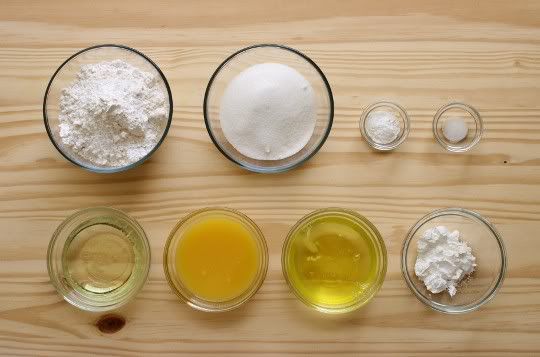 And here's what went wrong first. IGNORE the recipe's baking time suggestion. They don't even give you a range for Christ's sake! "One hour" ended up being way too long. In fact, I only went with 55 minutes; it's a good thing I decided to check. Because the cake is so light, you won't really get any heavy aromas as it bakes, so you'll need to check this carefully. I'd suggest starting with 40-45 minutes, especially since this is very close to angel food.
My 55 minutes of baking yielded a too brown and too tough crust; at least the inside remained soft, light, and tender. But I was so disappointed by the underwhelming orange flavor. It was pretty much nonexistent. I'm not sure if it's because I used orange juice that wasn't freshly squeezed, or if that's just how it was supposed to taste. Some orange zest really would have been a nice addition for some real orange flavor. A final sprinkling of powdered sugar on top complemented the lightness and airiness of the cake; in this case, it also worked well to disguise the tough crust.
This cake is best served the same day, or within 1-2 days of baking. I stored mine in the fridge, although I suppose you could try leaving it out at room temperature. Beware, it may get a bit stale in the fridge.
Make again? Probably not. Yes it was tasty, but if I wanted plain angel food cake, I would have made one.
♥♥♥♥♥
Vegan variation
: Use egg replacer (note, this may make the cake dense since you're using it as a substitute for egg WHITES).
Orange Loaf Cake
Taste of Home
"Muffins and Quick Breads," 2008