I love, love, love the combination of butternut squash and sage, so I was very excited to make this recipe. Something about the sweetness and the earthiness are mesmerizing; add in some saltiness, and you've got a hearty comforting meal that satisfies every taste bud. What's even better is that once you get the squash logistics out of the way (I'll explain below), the lasagna is super easy to make.
So the recipe calls for two 12-ounce packages of frozen butternut squash puree OR 4 cups of the fresh stuff. I almost made the mistake of buying a bunch of baby food jars, but don't: that stuff has added water in it, and you want the puree to be thick and have some substance. But, where the hell is squash puree actually sold? Hmmmm. You can make your own version of the fresh stuff, but that's going to require baking the squash for at least an hour, letting it cool, scooping it out, pureeing it, blah blah blah.
So here's what I did: I used two 15-ounce bags of frozen diced butternut squash. I let it thaw on top of the stove (even better if the stove is on for preheating), then pureed it in my trusty food processor in about three batches. This yielded about 3 1/2 cups puree, which ended up being a LOT for the recipe and its small 8x8 dish. So, I'd suggest lowering the amount to 2 1/2 to 3 cups, however you go about getting it. Then, use extra noodles to build more of a lasagna, and not have excess squash oozing out on the sides everywhere.
Once all that's out of the way and done, add sage, salt, and pepper to the puree. Next, combine ricotta, Parmesan, salt, and pepper. If you taste the mixtures now, you'll probably think there's a bit too much salt. Don't worry, it doesn't come through in the finished product. Start building the lasagna, and top your final layer with more Parmesan. You'll need about an hour of baking time total, plus a few minutes of standing. Easy!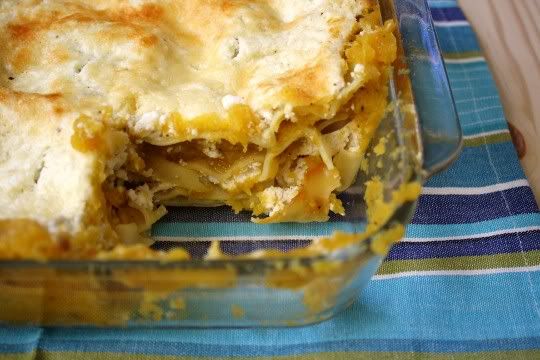 The final dish is the perfect example of sweet and savory: fragrant, peppery, salty, and creamy. The butternut squash is sweet and flowery, and the pepper gives a surprising amount of heat and flavor that goes well with the two cheeses. The sage presence could have been a LOT more prominent: I'd suggest doubling the amount, using a combination of dried and fresh, or even adding fresh sage leaves to the layers (yum!). The Parmesan on top creates a salty and chewy crust that's only right for a lasagna. One serving is super filling, but leftovers proved to only hold up for about 2-3 days (so plan accordingly, you can probably freeze some of it).
Make again? Yes...with some recipe adjustments. I'd maybe even consider combining the fillings and using for some kind of stuffed pasta.
♥♥♥♥♥
Vegan variation
: Use a vegan sub for ricotta and Parmesan.
Butternut Squash Lasagna
Vegetarian Times
, April 2006