My fondest memory of raw foods is from an episode of
Sex and the City
. Diehard fans know exactly which one I mean: Samantha heads back to the hot new raw restaurant, with sole intentions of hooking up with the hot waiter (Smith Jared). I remember the faces the diners made as they consumed plate after plate of the food, of course in an attempt to stay as long as possible. In one word, the stuff looked "gross"...even the descriptions of the food sounded horribly unappetizing.
So imagine my fascination when I discovered the monthly supper club I'd be attending at Whole Foods Venice was featuring a four-course raw menu (for only $15!). Interestingly enough, the course descriptions actually sounded good, and I was hoping the food would completely change my mind about the raw foods stigma.
Well guess what, it did! Chef Jenny Ross (of 118 Degrees restaurant in Costa Mesa) totally ROCKED the meal! Not only did the food smell, look, and taste AMAZING, but I actually walked out of there feeling completely sated. That's right, I wasn't scrambling to load up on protein or carbs later that night; in fact, I think there was
magic
in that food because I felt so clean, so clear-headed, so mentally alert, so energetic, so
ALIVE
.
So maybe there is some science to this raw foods diet: nothing is heated over 118 degrees, so no nutrients and minerals are killed off. The food is all straight from the Earth--nothing processed, nothing added--and used in its most pure form.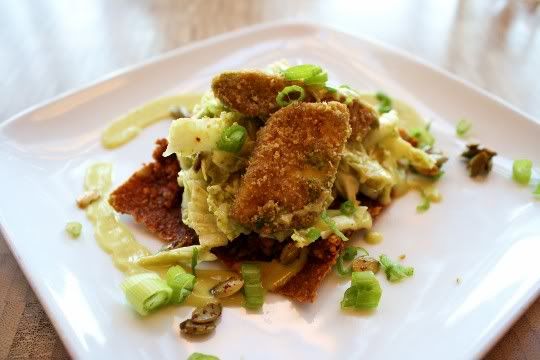 First course,
Fried Avocado Mini-Tostado
♥♥♥♥♥
Believe it or not, this first course starter was quite hearty and fresh, and absolutely delicious! A buckwheat flax crust stood in for the typical tortilla, and it was slightly chewy, yet crisp. Spread on the crust was a spicy pepita (pumpkin seed) "cheese": creamy and thick, tangy with a bit of sweetness, and lots of chili powder flavor. The slaw consisted of shredded Napa cabbage, scallions, chili-spiced pepitas, and cilantro, tossed in lots of lime juice. I heard some diners say there was too much lime-y taste, but I thought it was wonderful--especially when paired with the..."fried" avocado! This stuff was great. Chunks of the buttery fruit, rolled in ground flax (how much healthier can you get!), and dehydrated just enough to give it a fried-like crispy coating. I think this was definitely one of my favorite dishes.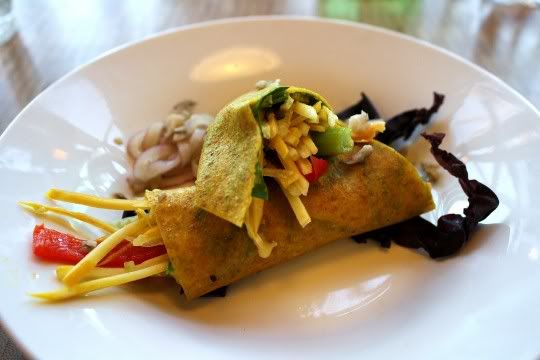 Second course,
Macadamia Coconut Curry Wrap
♥♥♥♥♥
This Asian fusion-ish roll had all the flavors of Thailand and India in one bite. The yellow wrap--made of dehydrated Thai coconut flesh and curry--was simply delicious: chewy, savory, salty, and sweet. This contained fresh and crunchy julienned red bell peppers and squash (?), along with a creamy curry macadamia sauce. The whole wrap was drizzled with truffle oil, with sides of mouth-watering and mind-blowing marinated mushrooms and pickled red onions. Also on the side was a slightly scary looking piece of dulse, that super salty and slightly spicy sea vegetable that you either love or hate (it was WAYYYY too salty for me). I loved this roll: curry and coconut, how can you go wrong? And so surprisingly rich in flavor!
Third course,
Mole Enchilada
♥♥♥♥♥
For the main course, the wrap took a Southwestern route. Dehydrated flax squash wraps were filled with a vegetable medley of SUPER sweet corn, spinach, diced squash, and diced zucchini. But what was definitely the star of this dish was the savory, smoky, and surprisingly spicy mole chipotle cashew-based "cheese" sauce: it was salty, and creamy, with strong hints of cumin and cilantro. Paired with that was a vegetable-pureed fajita sauce, which tasted tomato-based, spicy, and tangy. I could eat this stuff with a spoon! The marinated mushrooms on top added a nice earthy, tangy flavor. This dish was so amazing, and I doubt anyone would even be able to tell that it was raw!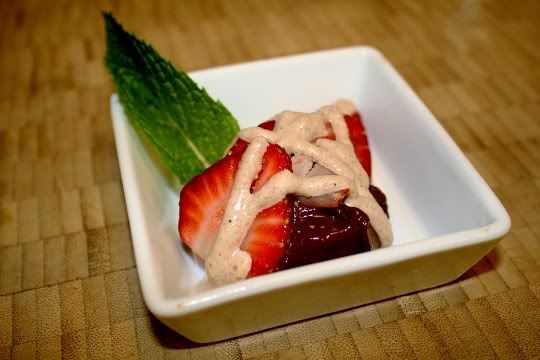 Fourth course,
Chocolate Ganache
♥♥♥♥♥
I was almost rendered speechless when the dessert course came around. The "number one seller at the restaurant" looked like a tiny blob of chocolate pudding with a few sliced strawberries. But OMG...this is the stuff of a chocolate lover's dream. In fact, I doubt any chocolate lover has EVER tasted chocolate like this. Made from raw Venezuelan cacao and cocoa butter and sweetened with agave, the "secret" ingredients also include greens and superfoods, such as maca root and mesquite. Vegetables in chocolate?! Yes, and it works so AMAZINGLY well!!! The best way to sum it up is this: fruity chocolate. That's what it tastes like, and I've never tasted chocolate with those kinds of elements before. I'm not talking about the orange- or raspberry-flavored stuff; I'm talking about REAL and RICH chocolate flavor, the raw stuff from the beans, the stuff no average person has ever tasted or dreamt of because it's all so processed by the time we usually eat it. The texture was amazing too, thick and glossy, decadent yet light. It was drizzled with a vanilla caramel cream sauce, made from cashews and cream of coconut. It had a slightly nutty texture and flavor, but wasn't overly sweet and had lots of cinnamon and vanilla flavor. But enough about that, let's get back to that chocolate. That stuff was ADDICTIVE. After I slowly polished off my serving (yes, I was trying to savor it for as long as I could), I quietly plotted eating one that had been placed at an empty seat...but then dammit, she returned! Bah!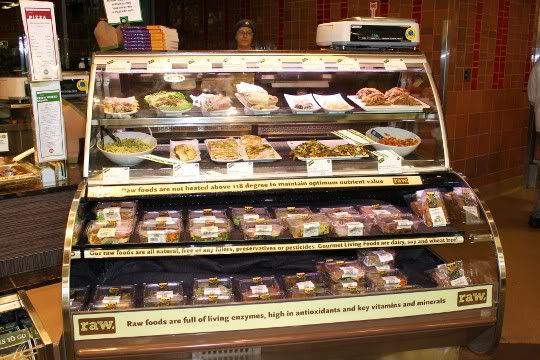 This dinner was held with great timeliness, as it coincided with the opening of the new raw bar at Whole Foods Venice. Only the second one in the region (the first is in the Tustin location), Chef Jenny said they plan to expand to more Whole Foods locations in the near future. Yay!
Thanks to all who made this dinner happen. I'm so happy I'm no longer afraid of raw foods!
Whole Foods Market, Venice
225 Lincoln Blvd.
Venice, CA 90291
(310) 566-9480
MAP