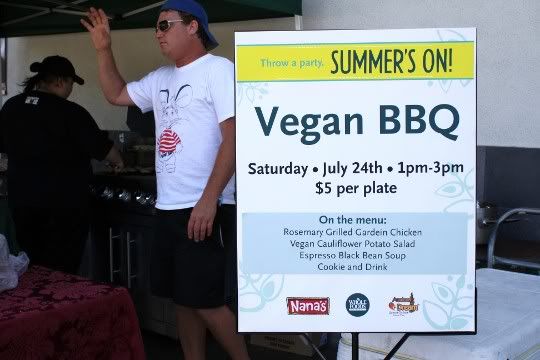 A vegan BBQ for only $5 a plate? Win! The fun staff over at Whole Foods on 3rd and Fairfax hosted this delightful ode to summer with a melange of tasty vegan foods. Of course when I saw "BBQ," I expected something with barbecue sauce...this was more like a summer grill cookout. Either way, there was a lot of food for a great value.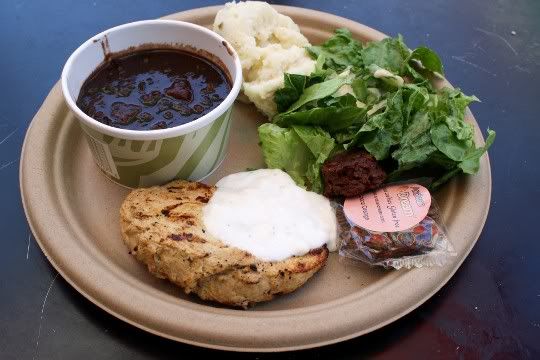 The menu consisted of Rosemary Grilled
Gardein chik'n
, Espresso Black Bean Soup, Cauliflower Potato Salad, green salad, and a slew of vegan cookies (one of each, nice!). I was informed that the grill cooking the Gardein was brand new, and had no previous meat grillings. Nice of them to add that in!
The grilled Gardein was great. I didn't taste any rosemary, but the chick'n breasts are already preseasoned, so it did have good flavor. It was served with--no, not barbecue sauce--a garlic cream
Vegenaise
-based sauce, which was absolutely delicious. Salty, creamy, garlicky, all slathered over the Gardein.
The black bean soup was great. It was smoky, spicy, rich, and earthy, with lots of cumin and tomatoes, and probably even a little brown sugar for sweetener.
Unfortunately, it was the somewhat bland potato salad that could have used some work. Or rather, some seasoning! I was told the ingredients were potatoes, cauliflower, Vegenaise, relish, and mustard seeds...a little salt would have done wonders! However, I'm not the biggest fan of cauliflower, and I thought this was a great way to sneak it into a dish. For those with picky eaters, take note! A simple green salad of torn romaine rounded out the meal, served with
Follow Your Heart Organic Creamy Caesar dressing
.
Now let's move to dessert. There were about four different kinds of vegan cookies to try, and I tried two kinds. The first,
Andean Dream Quinoa Cookies
, were pretty bad: dry, flavorless, and too crumbly. But the second kind,
Laura's Wholesome Junk Food Mint Double Fudge Bite-lettes
, were out of this world! Rich, chewy, fudgy, decadent, and oh-so-chocolatey, you'd be hard-pressed to believe these were healthy and vegan. I couldn't stop eating them, and I snuck a few more than they probably saw...
I definitely plan on attending more of the Whole Foods summer vegan BBQs. It's a great place to stop and get a plate (before or after your Whole Foods shopping, of course), or just if you happen to live in the area, or not! I thought it was great to see lots of non-vegans (we're talking the usual omnivoric folk here!) buying plates, asking questions about the vegan diet, and overall showing lots of interest in what was going on. Another successful event!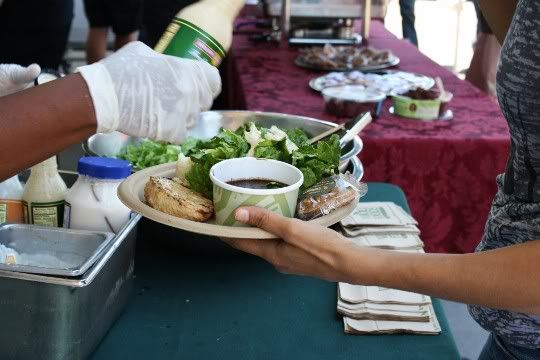 Whole Foods Market, Fairfax
6350 W 3rd St.
Los Angeles, CA 90036
(323) 964-6800
MAP