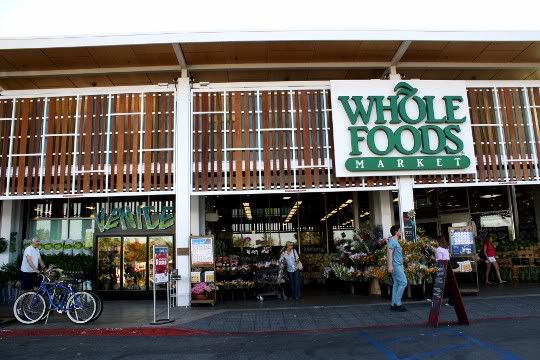 A monthly meeting of great food, great company, and great resources, the Health Starts Here Supper Club at Whole Foods Market in Venice is a healthy eater's dream. Not only can you learn about how easy it is to cook for your health, but you're surrounded by many who are interested in the same thing. And for only $15 for a four-course meal, why the hell not?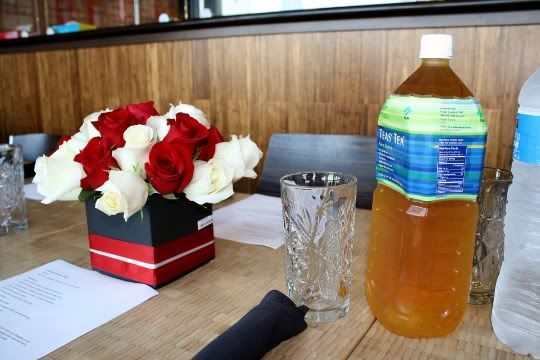 This month's menu was based on Dr. Joel Fuhrman's
Eat for Health
, a set of two books about healthy food, proper dieting and weight loss methods, and meal planning and recipes. "Lose weight, keep it off, look younger, live longer"...who wouldn't want that?
The dinner proved that choosing this lifestyle is not only easy, but unbelievably tasty. Christianne Winthrop, healthy eating specialist at Whole Foods Venice, along with Chef Jack Smiler explained to the diners that every dish on the menu was made with minimal oil and salt...and aside from the chicken in the third course (vegetarian/vegan option is always available), every other course was COMPLETELY VEGAN! Recipes were adapted from the books...and this definitely proves to be a selling point for them! Trust me, the food was so full of flavor and depth, that oil and salt will not be missed.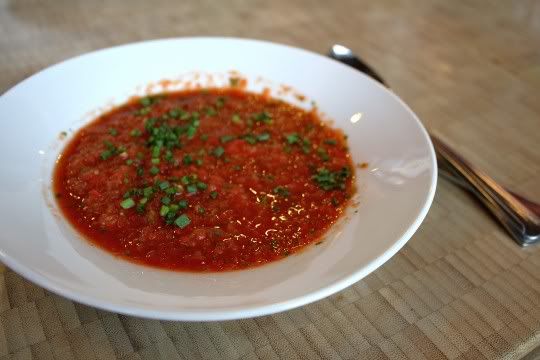 First course,
Gazpacho Summer Soup
♥♥♥♥♥
I'm not a fan of cold soups. Never have been, and I
thought
I never would be. But this soup changed that. I was hesitant with my first spoonful...but I soon found my bowl was cleaned. It absolutely screamed summer: tangy, refreshing, light...almost like eating pureed salsa. Now that might sound strange, but really, who doesn't like salsa? Full of tomato and peppery flavor, with lots of cilantro mixed in. The soup was pureed, but to the consistency of it being lightly chunky so there was still some texture. Red wine vinegar gave it that perfect zestiness that made any kind of salt or extra seasoning irrelevant. I think served with a side of chips, this would have been quite a unique twist on the traditional chips and salsa...but a great way to start a healthy meal nonetheless.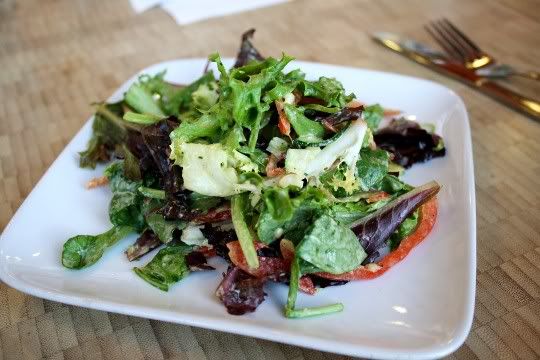 Second course,
Green Velvet Vegetable Salad
♥♥♥♥♥
A salad, of course, is a necessary precursor to a healthy meal, but this was no ordinary salad. Mixed baby greens were tossed with paper-thin slices of zucchini and the sweetest kernels of roasted corn ever (I need to start adding this stuff to more salads, it was delicious!). There were even thin slivers of red bell pepper (which I'm not usually fond of), but I think the vegetables being presented in such a non-overwhelming fashion really worked here. But what was unique about this salad was its dressing. It was extremely herbal, with parsley and dill being in the flavor forefront...yet the surprising ingredients were pureed cashews and tahini, which gave the salad its "velvety" finish and coating. It's amazing what the combination of these two can create: a dressing and texture that you'd SWEAR had some kind of dairy in it. The cashews, along with the corn, provided a mild sweetness, while the tahini added a bit of bitterness, and there was even a little tanginess from fresh lemon juice. I think sliced avocado would have been an amazing addition to the salad, for extra creaminess and buttery "fatty" texture.
Third course,
Dijon "Chicken" and California Creamed Kale
(the kale is behind the chicken)
♥♥♥♥♥
O bless thee, Whole Foods...I got
Gardein
for the main course! The Chick'n Scallopini breast was grilled and topped with an ultra tangy (maybe a bit TOO tangy) combination of Dijon mustard, lime juice, and vegan Worcestershire sauce. Yes, you can imagine pairing Dijon with lime juice was truly mouth-puckering. Still, I was happy to eat every bite of the hearty dish, and oh-so-glad that the staff thought outside of the box and didn't offer the traditional "grilled portobello" for the veg option.
I even got a fennel root braised in white wine on the side, which had the same tangy flavor from the Dijon sauce, but also that underlying sweet licorice taste that you either love or hate. Aside from some of the tough fennel outer leaves still being attached (and inedible), it was great.
And o, how I love thee kale. This was no exception. Again, many may have been baffled to find out there was no dairy in the "creamed" part of this, simply pureed cashews and soy milk, with some onion flakes for flavor. It was super creamy and sweet, and a great contrast to the hearty, chewy, and slightly bitter kale. This was all sprinkled with a generous amount of fresh parsley, which I thought was totally unnecessary...but I would have gone for more of that delicious sauce!
Fourth course,
Banana Fig Ice Cream
♥♥♥♥♥
Soooooo unbeknownst to us all, some genius "in the back" took these "ice creams" out of the freezer too soon; alas, they melted. Apologies and disappointed faces were strewn up and down the table when the news hit, but the good thing is, the dessert was still quite tasty. You know sometimes, all you need is fruit for that perfect end-of-the-meal sweet, and this was the perfect example of that. Thick and syrupy texture aside (this was actually like more of a pudding), the heavy banana flavor was very sweet and surprisingly rich (these must have been some ripe bananas!), and atop that was a pool of black fig vinegar. This stuff was great: imagine a sweet and tangy balsamic, but with background elements of sweet and earthy fig. The sweet banana and the tangy vinegar were a match made in heaven. If you've ever had strawberries and balsamic, you know exactly what I mean. A great summery way to end the meal.
So if you're looking for a great meal with great people, RSVP for the next Health Starts Here Supper Club. I know I plan on becoming a repeat guest!
Whole Foods Market, Venice
225 Lincoln Blvd.
Venice, CA 90291
(310) 566-9480
MAP