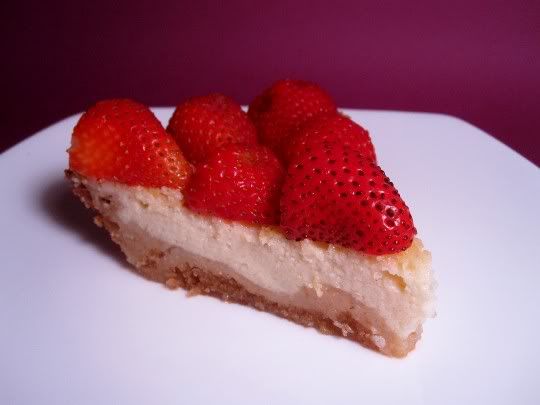 I think this may be one of the easiest pies I've ever made: stir, pour, bake, and you're done...seriously! Simply whisk together eggs, sugar, flour, buttermilk, and butter, plus vanilla extract and a little nutmeg for a delicious flavoring. Pour this into a premade graham (or shortbread) crust, but be careful, the filling will be very thin and soupy. The recipe suggests baking for 40 minutes, but mine needed probably an additional 20 to be completely set. So really, I'd suggest just baking until a slight golden brown crust develops on top to know when it's really done. Let it cool, top with halved strawberries, and you're done!
The end result will be a very interesting, very luscious and rich dessert. What's interesting about the pie is that it seemed to separate into two layers (check out that pretty marbling!): a light, very mildly flavored custard on top; and a cakey, almost bread pudding-like consistency on the bottom. The nutmeg and vanilla give off a sort of sweet potato pie flavor, and while this pie does taste good by itself, it's really the strawberries that bring this dessert to a whole 'nother level. Suddenly, this pie tastes like a berries and cream pie: tart and tangy from the fruit, smooth and velvety from the pie. Yum!
This is best served within a day or two. Overnight, the pie will firm up to a nice texture. Any longer, the crust will start to get soggy and wet. It will still taste good, but no one likes a soggy crust.
Make again? Yes. Quick, easy, and great tasting! I'd like to experiment with different fruit toppings in the future too: raspberries, blueberries, cherries, etc.
♥♥♥♥♥
Vegan variation
: Substitute egg replacer (or tofu), buttermilk, and vegan butter. Also, check the crust ingredients if buying premade.
Buttermilk Pie with Fresh Strawberries
Vegetarian Times
, April 2006