Imagine a '50s-themed diner combined with a sports bar, serving up hot dogs, burgers (you can build your own!), sandwiches, salads, and desserts...and you've got The Stand. They even serve beer and wine, right alongside milkshakes and fountain sodas. Black-and-white checkered vinyl tablecloths cover dark wood tables. A surprisingly large number of flat-screen TVs are mounted on the walls, and they're in all the right places, giving it that nice sit-anywhere-you-want-and-still-see-the-TV sports bar feel. Framed '50s-style designed menu items are also strewn about; I wouldn't mind taking a few of them home for my own kitchen decor. Oh...and the food came SUPER fast!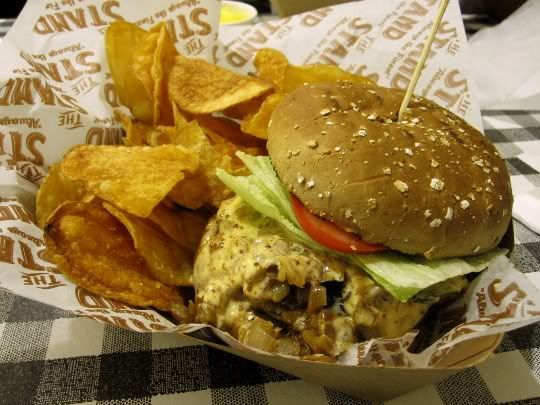 Westside Veggie Burger, $7.95:
Although this looked like a homemade veggie patty, it still tasted like a standard Gardenburger. But I could tell it wasn't, thanks to it being thick, crispy, and hearty. I say it was reminiscent of the standard because I could make out bits of mushroom, bell pepper, and the melange of typical veggies. Served on a wheat bun with lettuce and tomato, the Westside adds some unique toppings: Swiss cheese; sauteed onions, garlic, and mushrooms; and a "spicy Cajun sauce," which seems like a sort of remoulade of spicy mayo, sweet relish, and whole grain mustard. Yum! Honestly, I think it's the sauce and combination of garlic and mushrooms that really made this burger tasty. Not to mention the thing was HUGE, a great deal for the price. Burgers come served with the complimentary
Stand Chips
: thick-cut potato chips with a freshly fried flavor (no heavy or old oil taste) that are amazing with a generous sprinkling of salt and pepper. ♥♥♥♥♥
Mac & Cheese, $2.25 (small):
Creamy, ooey-gooey, generic-tasting cheese covers thick, soft noodles. The mac and cheese is salty and mildly flavored, but with a surprising background element of black pepper...only found in the best homemade variations of this dish. Served steaming hot, this is a great side dish to something NOT as heavy as a burger. Try it with soup or salad, or a couple other sides for a complete meal. ♥♥♥♥♥
Eat here again? Yes. A good, reliable spot for veggie burgers and beer!
The Stand
various So Cal locations: Encino, Century City, Westwood, Woodland Hills