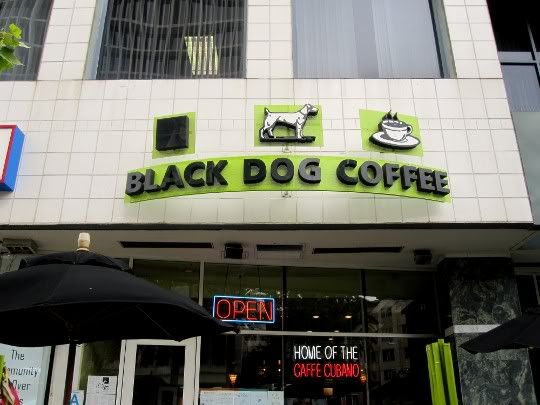 A cute Mid-Wilshire coffee shop, Black Dog Coffee is great for people watching, hanging out, and actually enjoying veg options. The place seems to have a nice amount of steady traffic, so I'm guessing it's a staple eatery amongst workers and residents of the area. There is ample outdoor umbrella-ed seating; inside, nicely aged and beat-up wooden chairs (necessary for any "true" coffee shop) and tables sit atop a brown tiled floor. Pea soup green walls contain interesting decor: old painted beer bottles serve as wall vases, a theft-worthy style idea. The place offers free wi-fi, and the Wilshire-facing counter-style eating area makes this a nice, cozy place to chill.
Black Dog Coffee actually offers vegan goods: soy milk for smoothies, coffees, teas, various snacks, and soups. The soups change daily (there is a monthly calendar available), but the vegetarian black bean soup is offered daily. Their smoothies are listed as "99% dairy free"...I'm not quite sure what that means. A breakfast and lunch menu (they are only open 7am-5pm) consists of assorted baked goods, soups, sandwiches, salads, various lunch combos, and of course, standard coffee shop offerings.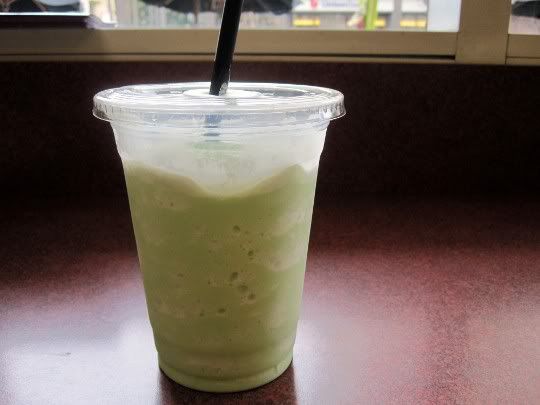 Green Tea Blended Ice Drink, $3.85
: I love green tea flavored things, and this one was no exception. The blended ice drink offers a regular, nonfat, or soy milk option (I chose nonfat). The drink was a little on the thin side for what I was expecting (well duh, I got nonfat milk), but still had a nice slushy texture and was very light and refreshing. The flavor was that fruity-tasting green tea, sort of like the boba drinks, and it wasn't too sweet in the good green tea way. ♥♥♥♥♥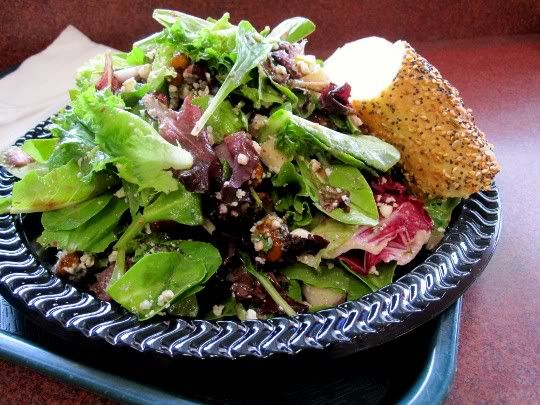 The Wilshire Salad, $7.65
: Mixed baby greens, chopped pears, candied walnuts, and crumbled Gorgonzola all tossed in a cranberry viniagrette (dressing on the side is an option). This should have been one of those delicious fruit-nut-stinky cheese salad combinations I so love, but this one had issues. For starters, the pear wasn't very ripe, and there definitely could have been more of it. On the other hand, there was WAY too much Gorgonzola. I mean, I love the stuff, but you only need a little of the stinky cheeses! The salad was loaded with it. Huge chunks of it. This made for a very rich salad, not something I'm used to. The menu also says fresh rosemary is one of the ingredients, but I definitely didn't see or taste any. I also wasn't entirely convinced that the vinaigrette was "cranberry": it could have easily been raspberry and I probably wouldn't have noticed the difference. The salad is served with a thick slice of the eatery's "three seeded baguette," which was a little stale (well, it was the end of the day). The salad is definitely whole meal portion sized. Really, the thing is huge...so that at least makes it worth the price. ♥♥♥♥♥
White Cheddar Cheese Sandwich, $5.50
: I was actually excited to try this sandwich. The combination of cheddar, curry, and cherries seemed exotic and tasty...but it actually turned out to be kind of strange. Curry and cheddar (or any cheese, for that matter) are not great together. They aren't horrible or inedible, it's just...strange. The sandwich is served on the three seeded baguette (which upon further examination seems to be sesame, poppy, and anise...or was it cumin?) with fresh baby spinach leaves and dried cherries. The cherries actually turned out to be the highlight, and I think the sandwich overall could have been improved if there had been less cheese and more of the curry spread. ♥♥♥♥♥
Egg Salad Sandwich, $6.00
: Normally served on foccacia (they were out), egg salad was put between two slices of regular wheat bread (toasted is available) with baby spinach, tomato slices, and mango chutney. Now there's a combination I'd never consider: egg salad and mango chutney...but it surprisingly works. In fact, the sandwich was even better the next day. The egg salad was typical: creamy with a bit of graininess from the hard-boiled yolk, nicely salted and peppered. My only complaint would be that the chutney was a tad too sweet and sort of overpowered the other flavors in the sandwich. Something salty or savory would be a nice contrast to the sweetness, and I'm thinking maybe the foccacia would have helped. I also don't think the chutney was a TRUE chutney; it could have been a jam for all I knew...but it was still good! ♥♥♥♥♥
Eat here again? Yes. I'm definitely interested in trying more of their soups and sandwiches, and probably even the breakfast options too.
Black Dog Coffee
5657 Wilshire Blvd.
Los Angeles, CA 90036
(323) 933-1976
MAP