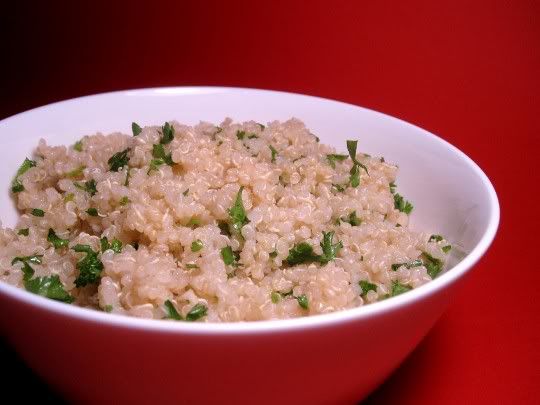 For a dish with only a few ingredients, this is a quick, easy, and cheap winner. Although a far cry from true tabbouleh, this recipe works: quinoa (the wonder grain) is cooked, then tossed with olive oil, chopped parsley, lemon juice, and minced garlic. For those of you who haven't tried (or are scared to try) quinoa, what are you waiting for?! This stuff is great...it cooks up quickly, has a lighter and nuttier texture than rice, but is more substantial than couscous. The possibilities for this grain are endless! It's even pretty to look at: small, slightly transparent globules with a white curly-q encasing them. Yummy! But anyway, I digress. The dish is tangy and pungent, with fresh herbal notes from the parsley. It's amazing what the combination of lemon and garlic can do for food! I only added a tiny bit of salt to taste, as the lemon juice really gives enough flavor...but some freshly ground black pepper wouldn't hurt. Another nice
addition would be some chopped tomatoes, or even something slightly sweet (a dried fruit of some sort: golden raisins, apricots, etc.), just to set off and complement the other flavors.
Make again? Yes. It's a great side dish for any Mediterranean main course, or pair with a soup or salad for a complete meal.
♥♥♥♥♥
Quinoa Tabbouleh
Vegetarian Times
, March 2006