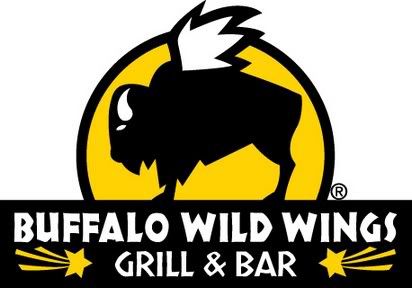 UPDATE:
According to various sources (thanks readers! see end of post), the Boca burger is not vegan or vegetarian, and everything fried on the menu is fried in LARD. Eat at your own risk...
Your standard sports bar and grill--where meat, of course, is the specialty. We're talking "sauce-spun wings," ribs, and "beefy burgers." They do have their own line of 14 signature sauces, including Sweet BBQ, Spicy Garlic, Mango Habanero, and Asian Zing. I wonder how many of these are actually vegetarian, but I suppose that's a later post. So in the place telling me "You've got to be here," what's a veggie to eat?
from L to R: Mango Lemonade, about $3. Veggie Burger (or Boca Burger), about $10. Buffalo Chips, additional charge.
Behold the chain's
Veggie Burger
...actually, a Boca burger, which I like. I sometimes tire of being offered the standard Gardenburger "real" veggie burger: hey in a place like this, I want to feel like I'm actually eating meat. And Boca has that down--the meaty grilled flavor, the hearty meat-like texture, the slightly charred edges--yum! Mine came with shredded iceberg lettuce, tomato and red onion slices, and a pickle on the side. The burger doesn't come with cheese, but I added it (choice of cheddar, Swiss, or pepperjack)...I'm not sure if I was charged extra or not. This was all atop a big soft white Kaiser roll, which was a little too soft and thick: toasting the bun would have made a HUGE difference. Overall, I'd still get it again.
Your side options include french fries. A side salad, onion rings, or
Buffalo Chips
are extra. I opted for the Buffalo chips, as the server said I should try them out and recommended getting them "extra cripsy" because "they just taste a lot better that way." Done and done. I have to admit, I was expecting more of a homemade potato chip kinda thing...these are basically just horizontally cut fries. Don't get me wrong, they were good and came out hot and fresh. If I had the option of getting these over regular fries, I definitely would. I'd also say they're worth the extra charge.
I also tried the
Mango Lemonade
(other options were Wild and Huckleberry). This was basically regular ol' add-the-syrup-to-the-water lemonade, with extra mango-flavored syrup added to that. Yes, it was good...but I think I'd try the Huckleberry next time.
Eat here again? Probably...knowing that my options are limited, but thank God for Boca...and a full bar! I'd also like to check out the ingredient listings on those sauces...could make for some good tofu marinades!
♥♥♥♥♥
Buffalo Wild Wings
(nationwide)