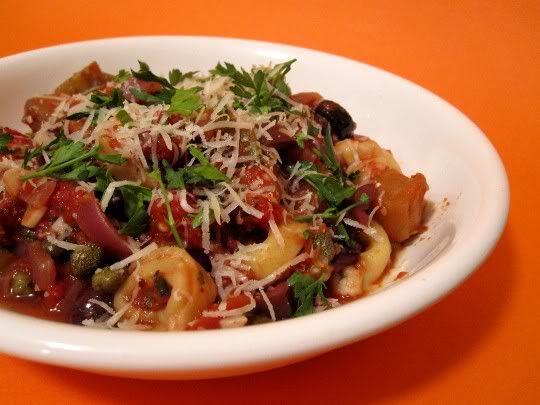 For this recipe to contain so many yucky foods that I DON'T like, it turned out to be absolutely amazing! It's fragrant, savory, perfectly seasoned, oh-so-hearty and satisfying, and best of all, easy to make! First, eggplant (yucky #1), red onions, bell peppers, and garlic are sauteed in olive oil. The recipe suggests cutting the eggplant into one-inch cubes; I thought these would be too big, but they do cook down and shrink slightly. Try half-inch cubes if you want something closer to the size of the tortellini and less chunky. Next, add canned diced tomatoes, chopped kalamata olives (yucky #2), and capers (yucky #3) and simmer. Oregano and red pepper flakes are added for seasoning, and this provides plenty of noticeable heat. That's right, this dish is spicy! Salt isn't even needed for this dish, as enough leaches out of the olives and capers during cooking. Stir cooked cheese tortellini into the sauce, grate some fresh Parmesan on top, sprinkle with freshly chopped Italian parsley, and you're done!
The tortellini had just a hint of nutmeg in it, which was a surprising but welcome flavor to the tangy saltiness of the sauce. I also thought the amount of pasta (a 12-ounce bag) would be too little for the amount of sauce, but the ratio ended up being perfect. The parsley, which I'd usually consider optional, really adds fresh and biting herbal notes. Finally, the end result of the eggplant (don't forget, yucky #1) actually soaked up most of the olive oil and tomato flavors; its texture was strangely fruit-like, firm yet juicy. The sauce from start to finish takes about the same amount of time as bringing the pasta water to a boil and then cooking it, so maybe 30-40 minutes. Overall, this is a wonderful dish: perfect for company or date night, easy to double the amount, and leftovers are even better!
Make again? Definitely. I'd maybe even consider doubling the recipe just to eat for myself!
♥♥♥♥♥
Spicy Eggplant Puttanesca
Vegetarian Times
, March 2006