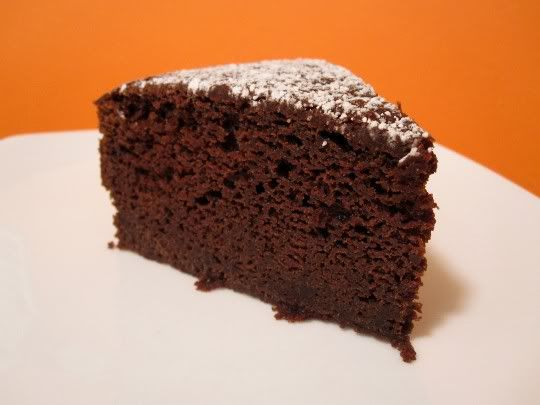 I'm not a fan of Guinness. I think it's too bitter, too rich, and too heavy to drink for a beer. That being said, an ingredient with those characteristics could be very interesting when used in cooking or baking. And voila, the Guinness cake! This was fun to make and pretty easy as well. Guinness is melted with a whole stick of butter (which gives off an interesting smell), then mixed with cocoa powder. There's even sour cream in the batter, which does wonders for the cake's texture.
So yes, this is basically just a chocolate cake with beer in it. A nice layer of sifted powdered sugar adds a light, sugary sweetness to the finished cake, which is a good pairing for the more intense flavors. But it's so dense, EXTRA moist, rich, and chocolatey that you won't even care. Maybe I'm just not used to the Guinness flavor...samplers of this cake said the beer flavor and aroma were definitely noticeable. I just tasted certain savory elements, a slight hint of alcohol, and a roasted malty flavor. The beer seemed to add a certain depth to the chocolate that I can't really explain...so it's best to try it on your own and see! Although the flavors do seem to deepen overnight, I think the cake is best after it's been out of the oven for about an hour. Fresh, fluffy, slightly warm, and with the most unique aroma!
Make again? Yes, if I were trying to surprise people with a fun and unique dessert.
♥♥♥♥♥
Guinness Cake
Vegetarian Times
, March 2006
(Note: The printed magazine lists this recipe's title as "Guinness Cake," but I'm guessing some kind of legal issue led to the renaming of the website recipe as "Chocolate Stout Cake.")