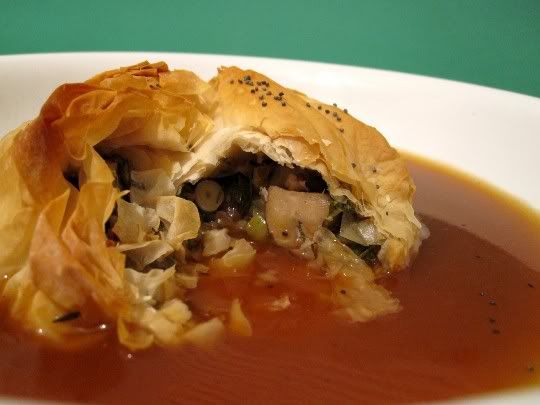 Boy, are these a pain in the ass to make! Seriously, this is like an all-day, mushroom-filled affair. But in the end, you'll have a five-star restaurant-worthy meal that is surprisingly satisyfing and
tres
gourmet. Crunchy filo pastries filled with mushrooms and other veggies sit atop a sweet, rich, aromatic, mushroom-based sauce, almost making this a sort of veggie wellington.
A few notes... There is a LOT of prep in this recipe: from chopping mushrooms, leeks, and herbs; to sauteeing; to creating and baking the strudels; and finally, to making the sauce. The mushrooms for the strudel filling took about double the suggested saute time (the amount of water they released during cooking was tremendous), so you might want to do them in two batches (i.e., two pans simultaneously). You'll have to saute the leeks next, and then add those to the mushrooms along with soaked bulgur, chopped green onions, chopped parsley and dill, and lemon juice. I was a little worried at the seemingly large amount of dill in this recipe (as I'm usually not a fan of it), but it simply provided a tangy, sweet herbal flavor to the end product.
This was also my first time working with filo dough. I was leery because I've read plenty of horror stories, and there always seems to be an abundance of precautions...but amazingly, I only tore one sheet! Filo dough is EXTREMELY paper-thin and delicate, and it's important to keep it from drying out while working with it. So, try to keep it covered with a DAMP towel at most times and work QUICKLY. The recipe says to bring the four corners of the sheets together after filling with the mushroom mixture, but I don't think this is very clear. Do you bring the corners up to form a sort of pouch (as I did), or do you fold them over to form more of a turnover shape? The pouch worked well, and I ended up with a "strudel" about the size of my fist. Sprinkle with poppy seeds, and bake for about 40 minutes or until golden brown and crispy.
The sauce is the other time-consuming part of this recipe, mostly involving--you guessed it--a lot of prep work. Chopped onions, carrots, and mushrooms are sauteed, then simmered with garlic, thyme, tomato paste, vegetable broth, balsamic vinegar, and Madeira wine. Two different grocery stores I visited were actually out of stock of Madeira (a conspiracy?), so I substituted some Marsala I already had (I think this worked well, or you can use sherry). The finished sauce (once strained and thickened) should be a rich, deep brown color and so amazingly fragrant and sweet. There will be a lot of leftover "stock" veggies - too many to simply throw away - so they would probably be good to use as a soup or stew base for the future.
I knew leftover strudels wouldn't stay crispy...so the next day, I simply heated one up in a bowl and topped with reheated sauce. This became sort of a mushroom dumpling soup, and the sauce as a "soup" base was amazing! Still sweet, tangy, and heavy with the alcohol aromatic, it definitely seemed to improve the next day.
Make again? I suppose...if I've got a few hours on my hand and a crowd to feed. But that sauce is to die for!
♥♥♥♥♥
Mushroom & Leek Strudels
Madeira-Mushroom Sauce
Vegetarian Times
, February 2006