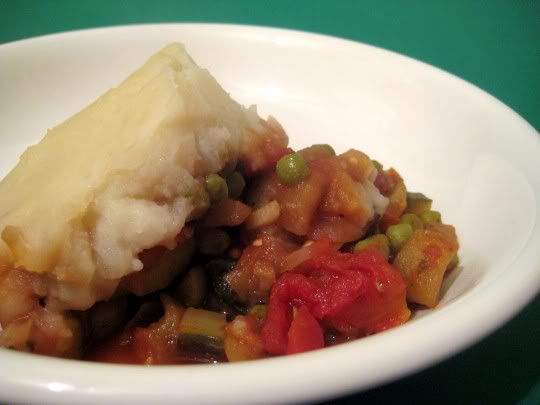 I'm so mad that I waited so long to make this dish, since I was scared off by two of my least favorite vegetables: eggplant and mushrooms. But OMG, this dish is out of this world! Perfect for a cold winter night, it's hearty, filling, and full of healthy and flavorful veggies. And topped with a thick layer of smooth, creamy mashed potatoes, which makes everything better!
The dish is rather easy to make. You basically make the veggies, spread with mashed potatoes, and bake. The veggie "stew" consists of onions, eggplant, zucchini, mushrooms, peas, garlic, tomato paste, diced tomatoes (the Italian-style kind), fresh basil and thyme, and balsamic vinegar. If you want to simply serve this as a stew or side dish of veggies, you could stop at this point. The veggie mixture itself is simply amazing and so flavorful: the balsamic vinegar and tomatoes add a wonderful sweetness, and the thyme and basil add a fragrant herbal note.
If you do continue on to the potatoes step, I would suggest maybe making them the usual way: adding milk and butter, instead of soy milk and canola oil. They were still very rich, smooth, and creamy, but didn't have a ton of flavor. Nonetheless, they were the perfect addition to the veggies, sopping up all the juices and gravy. I baked the dish about 20 minutes longer than suggested, just to give the potatoes a nice crust. Strangely, the potatoes came out a little rubbery on top, but it didn't affect the end result (but again, this is why I would suggest using milk and butter).
Make again? Definitely! Leftovers are amazing, or serve to a hungry crowd and prepare for applause.
♥♥♥♥♥
Glorified Ratatouille Shepherd's Pie
Vegetarian Times
, February 2006