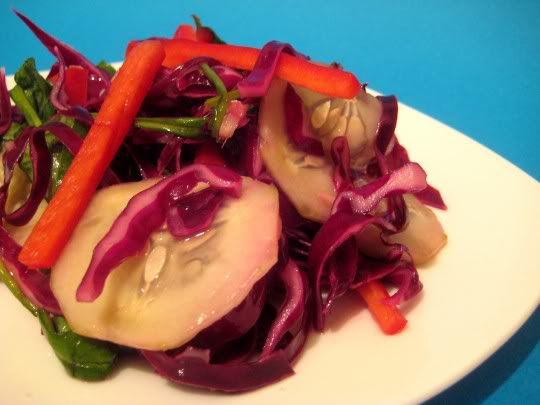 I was excited to try this recipe: a crunchy, summery, fresh, flavorful bunch of veggies in a light dressing. Sliced red cabbage, cucumber, red bell pepper, fresh spinach, and a touch of jalapeno are tossed with apple cider vinegar, maple syrup, and fresh ginger. Yum, sweet and tangy veggies, who could ask for more?
Well, I could ask for a better recipe. Alas, it was ruined from the beginning. The recipe instructs you to (quite heavily) salt the cabbage and let it sit to soften. I thought a full teaspoon of salt looked a bit much when I sprinkled it on, but I figured it would just be enough to draw the moisture out (which it was supposed to do). But the salt stays all the way to the end of the dish, making this very oddly flavored. This slaw should have been sweet and tangy, not salty with just a hint of sweetness. The ginger was the star in this recipe, which at least would make a great complement to the other veggies. Unfortunately, I ended up throwing this away.
Make again? Maybe, either greatly reducing the salt or omitting it all together. And the dressing could use a little more maple syrup, or maybe instead of apple cider vinegar, use rice wine!
♥♥♥♥♥
Red Cabbage Slaw
Vegetarian Times
, February 2006