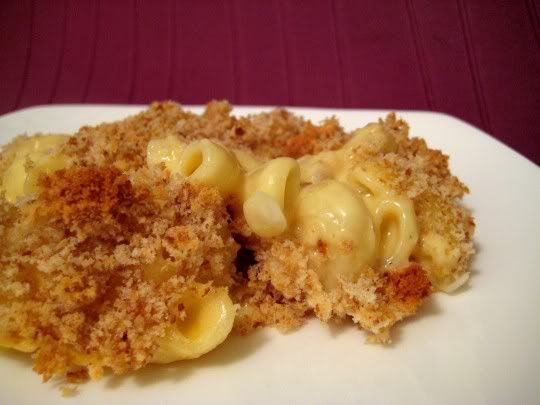 This is by no means the usual mac and cheese that I'm used to eating...or making. It's a hell of a lot of work to make mac and cheese from scratch, and that's essentially what this recipe is. Sure, this way allows you to substitute a lot of the ingredients for lowfat versions, making it surprisingly healthy...but when it comes to a comfort food like this one, you've just gotta suck it up and go for the gold! This recipe calls for a cheese sauce, which included pureed cottage cheese, which you'll eventually be adding to a standard white sauce (that requires a ridiculous amount of whisking time), followed by adding grated cheddar (which clearly was not enough for a TRUE cheese sauce). Onions are also in the sauce, which is strange for mac and cheese in my opinion. They gave the cheese sauce a subtle sweetness, but hmmm, I'm not too sure about that. Cooked noodles are stirred into the sauce, then everything is poured into a baking dish, topped with fresh bread crumbs, and baked until bubbly. There wasn't even additional cheddar added to the top...blasphemy!
In the end, even with all my complaints, this was a decent dish. It was creamy, satisfying, filling, and tasty...but if you're looking for a REAL mac and cheese recipe, look elsewhere.
Make again? Probably not, unless I made some major tweaks to the recipe. And who has time for that, with so many amazing mac and cheese recipes out there?
♥♥♥♥♥
Mac and Cheese
Vegetarian Times
, January 2006