An extensive Asian menu, but which also includes "regular" American dishes, makes this a place with a ton of yummy options and no questionable dishes. Located in a strip mall on the Westside (there's also a location in Hollywood), California Vegan is a decently sized restaurant, complete with Asian decor, thriving plants, and an all-around peaceful and "healthy" vibe. And...they serve beer! You can order most meals (Asian dishes including standard Chinese and Thai dishes) with your choice of tofu, soy chicken, soy beef, seitan, or soy fish. Tofu can be common in most Asian restaurants...so when you come here, you must try the meat alternatives instead! This place even has soy shrimp!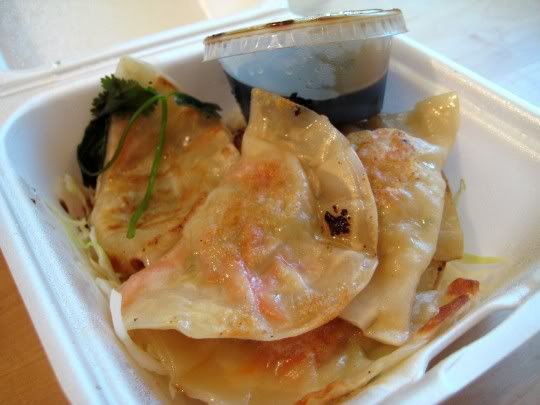 Dumplings, $5.25
An alternative to egg rolls...because that's exactly what these dumplings tasted like. Which is not a bad thing. The vegetable mixture filling is your standard carrot, cabbage, celery, and rice noodles. I ordered mine fried (because I like the crunchy, chewy ends of the wonton), but they were a little too greasy. What's interesting about this dish is the dipping sauce the dumplings are served with. It's surprisingly sweet, very sweet. In fact, after a few more dips, I figured out the unique ingredient I was tasting: molasses! But don't worry, it works well with the dumplings. I'd get this again, but maybe steamed next time.
BBQ Tofu, $5.95
I think this was supposed to be grilled, but nary a grill mark was in sight. The flavor of this dish all comes from the barbecue sauce, which is pretty good. It's probably a standard store-bought brand, but it's tangy, sour, and only slightly sweet. Dipping the tofu, which is cut in triangles, in the sauce is a must...otherwise, you're eating plain (and seemingly unseasoned) tofu. There is a slightly smoky flavor to it, but I'm guessing it isn't seasoned with more than just (a very little) salt and pepper...if that. I'd also guess that the tofu isn't pressed before cooking, because a surprisingly large amount of water accumulated at the bottom of the container. I'd pass on getting this again; hell, I can pan-sear some tofu and serve with barbecue sauce and it would taste better than this.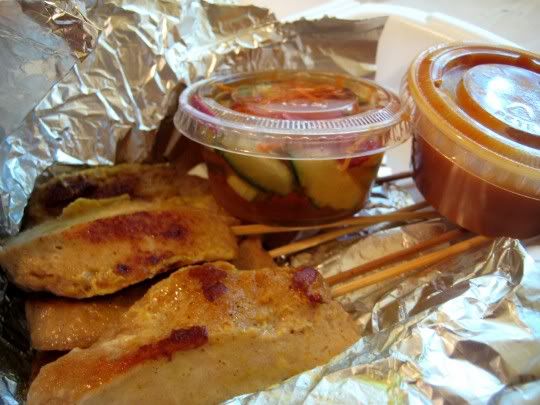 Chicken Sa-Tay, $6.95
Mmmm, do I love satays...one of the few things I do miss about eating meat. These were served with the standard cucumber salad: cucumbers, red onions, and carrots in a sweet-sour vinegar dressing. This was good, although I don't think I've ever come across a Thai cucumber salad that I didn't like. But the satays...oh, the satays! I have had better veggie chicken satays, but these are worthy of a second trip. Five satay skewers looked to be pan-seared, lightly coated in the faint yellow sauce suggesting the usual marinade/rub of coconut milk and curry. The "chicken" was chewy, hearty, and meaty in texture. The peanut sauce was a little too sweet, and had an interesting fruity flavor to it (maybe sweetened with agave nectar?), but it had a nice heat to it that I wasn't expecting.
Eat here again? Definitely. An endless amount of menu options, plus all vegan Thai food. Who can resist?
♥♥♥♥♥
California Vegan
12113 Santa Monica Blvd. #207
Los Angeles, CA 90025
(310) 207-4798
MAP