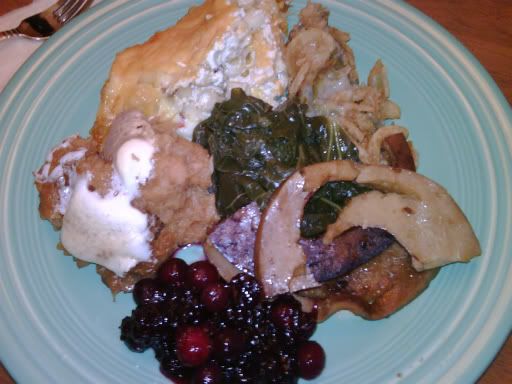 Just a little something for those of you wondering how my Thanksgiving was, starting clockwise from the top (please excuse the shoddy cell phone pic):
Spicy Macaroni and Cheese (The first time EVER that my mac n cheese has come out ABSOLUTELY AMAZING...thanks Sunny!)

Green Bean Casserole (recipe from back of the french fried onions container...thanks Taylor!)

Collard greens (made vegetarian specially for me...thanks Daddy!)

Tofurky slices (I prefer to slice mine before baking, I think it sops up more of the marinade/baste that way. I also am not crazy about the stuffing inside, so I scoop all of that out. The simple marinade was two parts olive oil, two parts soy sauce, enough chopped fresh sage to your liking, and chopped carrots and onions.)

Whole-berry cranberry sauce
Sweet potato casserole (with the marshmallows on top)

Yum, can't wait til the next holiday!