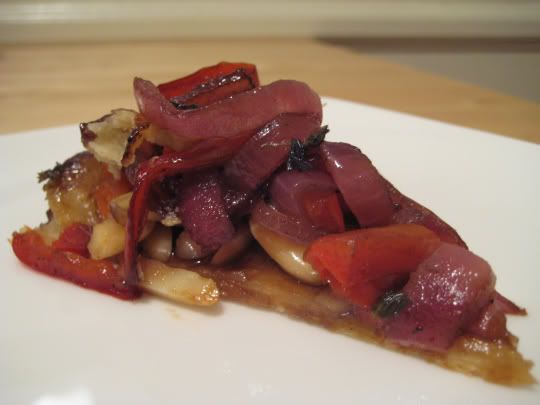 I'm not a huge fan of bell peppers, especially the green ones, but something about the sweet-savory potential of this recipe tempted me to make it. And sure enough, it was delicious. Roasting the bell peppers and red onions in a little olive oil, fresh thyme, and balsamic vinegar would have made for an excellent roasted veggies dish on its own...but here, they topped an olive oil crust along with slivered almonds and raisins, plus a balsamic-brown sugar glaze. With all the sweetness abound, the bell peppers and onions almost took on a fruit-like flavor.
The first bite of this almost seemed dessert-like. In fact, I struggled with whether or not to add a "Dessert" label to this post (in the end I decided against it...as good as it is, there's just something not right about having bell peppers and onions for dessert). Really, this thing is SWEET...but not overly or disgustingly sweet, just sweet enough to make for something very interesting to eat. The crust is heavenly and VERY heavy with olive oil flavor, so make sure you use a good one. Even after storing this in the fridge for a day and then reheating, the crust remained firm and crust-y, albeit a little doughy on the edges (I was expecting that all the juices and glaze would have left it soggy). It's recipes like this one that make me gain a love for thing like...bell peppers.
Make again? Definitely, and it's a must-try for those of you wanting to taste something surprisingly appetizing yet out of the ordinary.
Sweet Pepper Tarte Tatin
Vegetarian Times
, September 2005