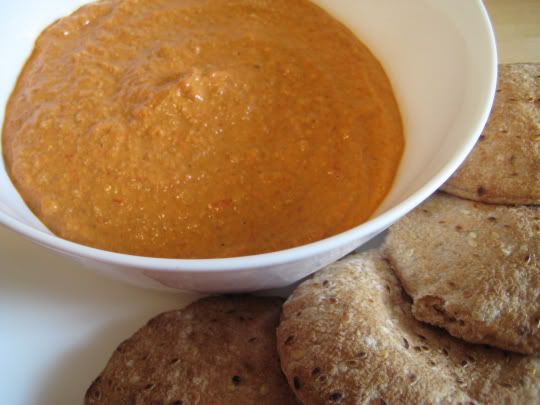 I'm not a huge fan of red bell peppers (or any color of bell peppers for that matter), but I wanted to try this North African dish. Needless to say, I wasn't crazy about it...but I don't think it was the bell peppers that killed it for me. First off, a warning: this spread is not for the heat-sensitive! The recipe calls for 1/2 teaspoon of black pepper AND 1/2 teaspoon of cayenne pepper. That may not seem like a lot, but you will definitely feel it after the first bite. Cayenne pepper is nothing to play with, and I questioned the 1/2 teaspoon as I scanned the recipe. That being said...it's REALLY nothing to play with.
I think my main problem with this spread was its sweetness, due to 2 tablespoons of raspberry vinegar. I know red bell peppers do have a natural sweetness to them, but I was definitely expecting something more savory. The raspberry vinegar would be better in, say, a salad dressing. All in all, the flavor was OK, but it's not something I'd want a lot of, just a bite or two...every now and then.
Make again? No. I ended up pouring the rest of it down the drain (and I HATE wasting food).
Muhammarah (Red Pepper and Walnut Spread)
Vegetarian Times
, September 2005