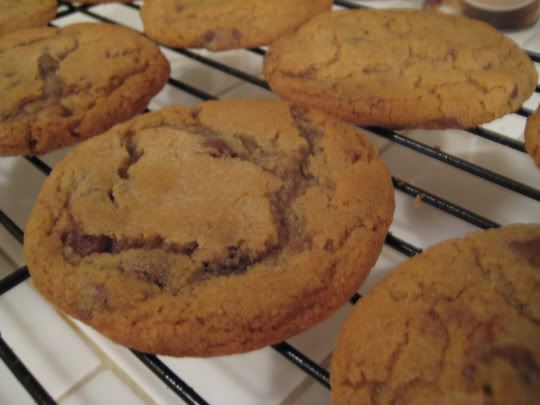 After totally destroying some chocolate chip cookies last week (when cookie recipes tell you not to overbake them, listen...even if they look uncooked), I had to redeem myself and make a tried-and-true recipe from childhood. Behold "Darrell's" recipe. These thin cookies are crisp on the edges, moist and chewy on the inside, and sweet and buttery throughout. An entire stick of butter goes into these, so they are rich. One cookie is enough to satisfy the sweetest of your teeth. These cookies baked for the exact amount of time suggested: 12 minutes. After learning from last week, I took them out exactly at 12 minutes (okay, 15 for the first batch). Don't worry if they look like they need a few more minutes. They should be just golden on the edges, and slightly puffy in the middle. Leave them on the cookie sheet for about 5 minutes, and you will see a true, perfect cookie forming. Transfer to a rack to cool completely.
Make again? Hell yes!
"Darrell's 'Forget-the-Cookies-Just-Give-Me-That-Batter' Chocolate Chip Cookie Recipe,"
KidsCooking: A Very Slightly Messy Manual
, Klutz Press, Palo Alto, CA, 1987.