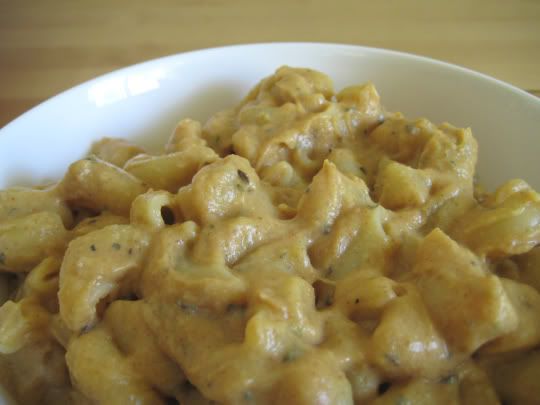 I have a lot of respect for my vegan friends out there after eating this dish. One reason I don't think I'll ever be able to go all the way: my love for CHEESE. Nutritional yeast flakes seem to be the cheese-base substitute used in vegan cooking, or at least in the cookbook I used,
Table for Two
. Let me tell you...it's not fooling anyone. I've tried some of the soy cheeses, and they are OK, albeit their lack of proper melting properties. But the taste is still there, so it's a decent substitute. But this...stuff? UGH.
I thought the texture of the sauce would be OK, as it was creamy, thick, and saucy, and coated the macaroni well. Vegan comfort food at its best, I thought. Then I tasted it. The sauce was almost gritty, and the taste...oh God. I'm not sure I can even describe it properly, but it was definitely unlike any macaroni and cheese I've EVER tasted. The sauce had a slight tomato undertone (due to the ketchup added in at the end...yes, ketchup), and the herb mixture (oregano, basil, paprika, ground mustard) actually did give it some flavor...but it's that stinky, yeasty, savory-in-all-the-wrong-ways nutritional yeast that I cannot do.
Make again? Well, now I have a whole tub of nutritional yeast flakes that I'd better find something to do with. Gravy perhaps? But this Cheezy Macaroni? NEVER AGAIN.
"Cheezy Macaroni,"
Table for Two: Meat- and Dairy-Free Recipes for Two
, Joanne Stepniak. Tennessee: Book Publishing Company, 1996.